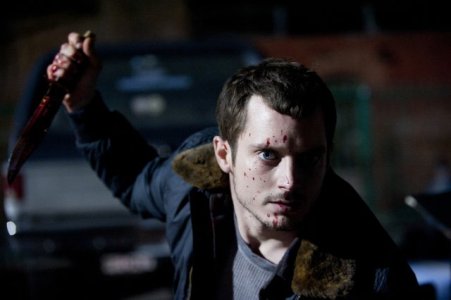 I can't keep banging on about how good Franck Khalfoun's remake of Maniac is without at least giving you some actual footage to prove it. I have reviewed it, shown you the trailer and listed it as my number one horror film to look forward to next year, so now, today I can finally bring you some new actual footage from the film!
A brand new behind the scenes featurette has been released which features plenty of film footage, along with interviews with the makers and cast, and lots of slightly disturbing shots of Elijah Wood clearly loving playing a vicious serial killer. All hail Wood, horrors new best friend!
Sadly the featurette does go out of sync at the end, but at four and a half minutes long it shouldn't matter, there is loads to enjoy here! Even better news is that the film now has a release date, and you can expect to see it in selected UK cinemas from 15th March!
Maniac is directed by Franck Khalfoun, and Alexandre Aja is on writing and producing duties. Elijah Wood is playing the role of the killer, Frank, with the gorgeous America Olivo playing his Mother. Nora Arnezeder, Liane Balaban, Morgane Slemp, Sammi Rotibi and Sal Landi also appear in the film.
See all our previous stories here
Synopsis:
Just when the streets seemed safe, a serial killer with a fetish for scalps is back and on the hunt.
Frank is the withdrawn owner of a mannequin store, but his life changes when young artist Anna appears asking for his help with her new exhibition. As their friendship develops and Frank's obsession escalates, it becomes clear that she has unleashed a long-repressed compulsion to stalk and kill.
A 21st century Jack the Ripper set in present-day LA, MANIAC is a re-boot of the cult film considered by many to be the most suspenseful slasher movie ever made – an intimate, visually daring, psychologically complex and profoundly horrific trip into the downward spiralling nightmare of a killer and his victims.
(Follow me on Twitter)