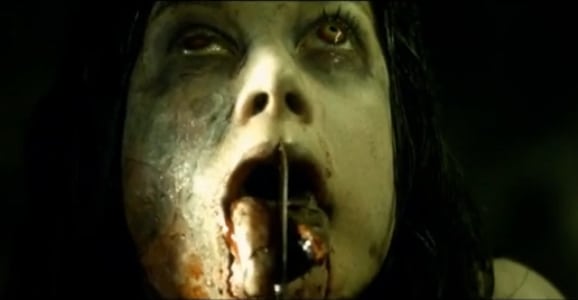 Oh what it is to live in the US, the lucky bastards have had the release date of Fede Alvarez' Evil Dead brought forward by exactly a week, and will arrive on 5th April. The reason for this? Well, why not let Bruce Campbell's Tweet explain it for you!
Also revealed this week was how when the Evil Dead was submitted in the US for classification, it was deemed to strong and slapped with the killer NC-17 rating. A few cuts here and there, and Evil Dead is now officially an R-rating in the US!!!
Here is the Tweet we showed you on Monday:
Directed by Fede Alvarez, Evil Dead has been written by Alvarez, Sam Raimi, Rodo Sayagues and Diablo Cody. Jane Levy ("Suburgatory") as Mia; Shiloh Fernandez (Deadgirl, Red Riding Hood) as David; Lou Taylor Pucci (Carriers) as Eric; Jessica Lucas (Cloverfield) as Olivia; and Elizabeth Blackmore (Legend of the Seeker) as Natalie all appear, and Bruce Campbell is also onboard as a producer with Sam Raimi.
The Evil Dead is due to arrive in UK cinemas 12th April 2013.
Synopsis:
In the much anticipated remake of the 1981 cult-hit horror film, five twenty-something friends become holed up in a remote cabin. When they discover a Book of the Dead, they unwittingly summon up dormant demons living in the nearby woods, which possess the youngsters in succession until only one is left intact to fight for survival.
(Follow me on Twitter)