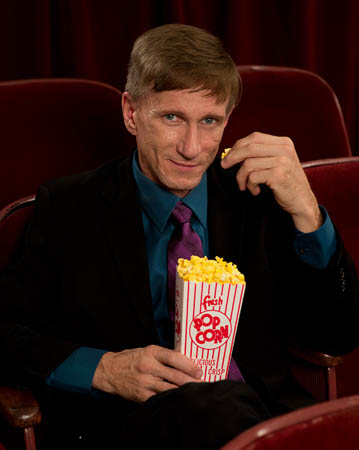 We've been giddy about THE DARK CINEMA since it's conception last year, initiated by producer Cheryl Compton. THE DARK CINEMA prides itself on showcasing the very best short films from around the globe, be it horror, thriller or sci-fi. For their pilot episode, Cherly and host Bill Oberst Jr. called for short films focussed around evil objects to be submitted, and we were very pleased that two filmmakers, Brett Young and Davide Melini, who submitted their films thanks to our news post, were chosen to have their films in the pilot.
Producer Cheryl Compton describes the curation experience: "I was overwhelmed by the response to our project. For several weeks, I watched short films from the moment I got up, until the moment I went to sleep – but it was well worth it because I believe we have a strong line-up, which will grab the attention of viewers."
The international roster of critical and festival favorites includes two films from the United Kingdom – Transmission directed by Brett Young, and 2:20 by Jason Wingard; from Italy, The Puzzle by Davide Melini; representing Portugal is O Risco (The Line) with Jose Pedro Lopes at the helm; and finally, from the United States is Daniel MacMunn's Out of Placement. All the films in the pilot episode are tied to the theme "evil toys and possessed objects." Compton continues, "there are so many talented filmmakers all over the world – and now with the relatively inexpensive resources available to them, it's much easier for directors and producers to bring their stories from conception to completion."
Now we're pleased to share the first look at what to expect from the debut episode of THE DARK CINEMA, with a little word from host Bill Oberst Jr in the new trailer below.