Ever had one of those moments when you hear a voice inside your head? Well, how about if it turned out that the voice was in fact a demon intent on taking over your entire body? Sound good? We didn't think so!
The Possession (released on DVD on Monday 21st January) tells the story of what happens when a young girl becomes possessed by an evil demon. And to celebrate this release, we have put together out top 10 list of possession horror films! (Just so you know what to look out for!)
THE DEVIL INSIDE (2012)
Rome, Italy: Maria Rossi sits in a psychiatric hospital after committing a triple murder during her own exorcism. Twenty years later, her daughter, Isabella begins to investigate exorcisms for her documentary in a bid to understand her mother. What she finds is both harrowing and terrifying as Isabella begins to become embroiled deeper with the world of demonic possession. Expect exorcisms and possessions aplenty in this rollercoaster of one woman's terrifying attempt to get to know her mother.
THE RITE (2011)
The Rite tells the story of one priest's reluctance to believe in the supernatural. Travelling to Rome (we think it might be a while before we visit Rome again!) to attend exorcism classes where he meets Father Lucas (played by Anthony Hopkins). Realising Father Micheal's (Colin O'Donaghue) scepticism, Father Lucas charges him to attend the exorcism of a pregnant, 16 year-old girl, who is possessed.
Reluctantly agreeing, Father Micheal is plunged into the heart of a crisis when he learns that Father Lucas also becomes possessed and he is the only priest who can perform the exorcism in time to save Father Lucas. The only trouble is, can he risk conducting an exorcism without becoming possessed himself?!
THE CONVENT (2000)
In a change from the familiar appearances of priests in possession horror films comes The Convent. Drunken frat boys and Goths frequent an abandoned school chapel in which a massacre of nuns took place fourty years before. When a teenage girl is kidnapped for a satanic human sacrifice, the 'devil worshippers' inadvertently summon a real demon and promptly become possessed themselves! (Demon nuns? That's the first time we've come across them!)
FALLEN (1998)
Philadelphia police Detective John Hobbes (played by Academy Award nominee, Denzel Washington) and his partner, Detective Jonesy (John Goodman) are investigating a spate of homicides apparently committed by a copycat killer. The real murderer, captured by Hobbes and Jonesy has been recently executed.
But all is not as it seems when Detective Hobbes realises that this is not a copycat after all when he comes face to face with the demon, Azazel. As the demon taunts him, possessing and subsequently murdering those he possesses, Hobbes must find a way to stop Azazel once and for all. Expect bodies to pile up in this film with a demon who bounces from body to body faster than we can blink!
SESSION 9 (2001)
The Danvers State Hospital, which has been closed since 1895, is in need of an asbestos removal company. Gordon Fleming is the owner of the company drafted in to do the job. When he and his team uncover a nine taped session with patient number 444 who turns out to have been a woman with multiple personality disorder, one of whom is named Simon. Things take a turn when one by one Gordon's crew are murdered by an unknown assailant. Could Simon be amongst them? And if so, which one of them is he?
Who knew asbestos could be so scary?!
THE EVIL DEAD (1981)
We couldn't compile this list without mentioning Sam Raimi's classic, The Evil Dead. A group of college students decide to spend their spring break at an isolated cabin. When they accidently unleash evil demons they must fight to stay alive in a place where even the trees are possessed!
PARANORMAL ACTIVITY (2007)
Young couple, Katie and Micah move into their new home when Katie mentions that she has, on occasion, been haunted by an evil spirit since childhood. Not believing her, Micah erects cameras in their house to capture evidence of Katie's supposed haunting and continues to goad the spirit despite warning from both Katie and a psychic. Angered, the spirit launches a reign of terror upon the couple ending in a possession so creepily scary it had us quaking in our boots!
THE EXORCISM OF EMILY ROSE (2005)
Based on the true story of German woman, Annaliese Michel's possession and exorcism, the film follows lawyer Erin Bruner who has been given the task of defending priest, Father Richard Moore, who stands charged in connection with an exorcism that caused the death of Emily Rose. The film tells the story of Emily Rose's possession by a demon whilst simultaneously putting the fear of all that is holy in us when Erin, too, begins to experience the very same ailments as victim, Emily Rose.
We suggest you stay in bed at 3am every night after watching this film! And that is all we are going to say!
THE SHINING (1980)
It is hard to heat the name, Jack Nicholson without this film immediately springing to mind. Working as the inter caretaker for the Overlook Hotel, Jack Torrance's wife, Wendy, grows increasingly uneasy with their surroundings. Cut off from the outside world and with son, Danny, experiencing frightening visions, Wendy discovers that her husband has been slowly transforming into a man she no longer recognises. A man she is terrified of. So, wheeeeeere's Johnny?! We have a feeling you'll find out once Jack gets his axe out!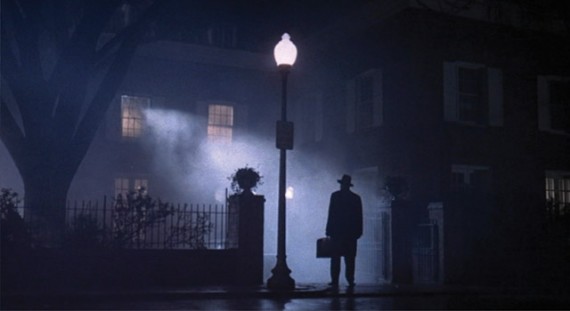 THE EXORCIST (1973)
Adapted from the 1971 novel of the same name, The Exorcist was inspired by the 1949 exorcism case of Roland Doe.
The victim in the film, however, is 12 year-old Regan MacNeil who begins to change before her parent's eyes. After a man is found murdered at the MacNeil home and Regan brutally attacks her mother, the only cure doctors can recommend is an exorcism. With plenty of violence and a scarily convincing performance by actress Linda Blair, this film will terrify you whilst simultaneously leaving you unable to peel your eyes from the screen at the same time! For extra scares, be sure to check out the Director's Cut!
So, if you enjoy a possession story (or ten!) be sure to pick up a copy of uncut The Possession on DVD from 21st January! Watch if you dare!
The Possession is out on DVD and Blu-ray from 21st January