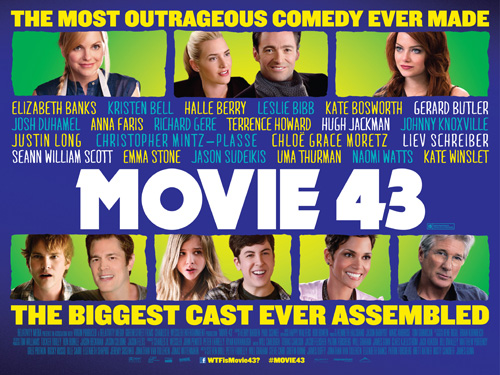 What is MOVIE 43? No, seriously, what is it? 'Cos we sure as hell don't know!
Take a hilarious director, add a brilliant all-star cast, mix in some twisted jokes, remove all boundaries of taste and then stand back…way back. In MOVIE 43, comedy is served steaming hot (literally) by writer and director Peter Farrelly of The Farrelly Brothers (SOMETHING ABOUT MARY, DUMB & DUMBER) in one of the most shocking, original, and dangerous comedies ever made.
Featuring a dirty dozen of never before seen clips and commercials, MOVIE 43 is jaw-dropping, uproarious, outrageous fun.
WARNING: not for the weak-stomached, faint of heart, or easily offended.
Starring:
HUGH JACKMAN, HALLE BERRY, KATE WINSLET, STEPHEN MERCHANT, JOHNNY KNOXVILLE, GERARD BUTLER, ANNA FARIS, SEANN WILLIAM SCOTT, CHRIS PRATT, RICHARD GERE, UMA THURMAN, EMMA STONE, NAOMI WATTS, KATE BOSWORTH, TERRENCE HOWARD, LIEV SCHREIBER, ELIZABETH BANKS, JUSTIN LONG, KRISTEN BELL, PATRICK WARBURTON, JOSH DUHAMEL, JASON SUDEIKIS, CHLOE GRACE MORETZ, CHRISTOPHER MINTZ-PLASSE, JACK MCBRAYER, KIERAN CULKIN, MATT WALSH, BOBBY CANNAVALE, LESLIE BIBB, AASIF MANDVI, BETH LITTLEFORD and many, many more.
Directed by BRETT RATNER, PETER FARRELLY, ELIZABETH BANKS, PATRICK FORSBERG, RUSTY CUNDIEFF, JAMES GUNN, JAMES DUFFY, STEVE BRILL, STEVE CARR, WILL GRAHAM, GRIFFIN DUNNE and BOB ODENKIRK, MOVIE 43 is released in UK cinemas on Janury 25th 2013.