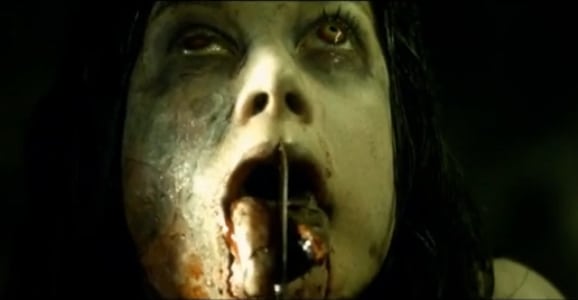 The poster for Fede Alvarez' Evil Dead remake promises "the most terrifying film you will ever experience", and both the red-band and green-band trailers promises violence and nastiness beyond belief. However, many horror films claim to be just that, but few can truly stand by their claims and deliver. News today proves that Alvarez, Sam Raimi and Bruce Campbell have made good on their promise and made a film so shocking, it had to be cut to receive a more theatrical friendly R-rating!
This is great news for a film which has a lot to live up to, and one Hell of a legacy to respect and pay homage too. It is also great news for horror fans sick and tired of violent horrors playing it safe in order to get the all important bucks and the box office. It would appear that this new version of the Evil Dead really will live up to all the hype.
A Twitter conversation between Alvarez and a fan gives all the information you need to know:
Directed by Fede Alvarez, Evil Dead has been written by Alvarez, Sam Raimi, Rodo Sayagues and Diablo Cody. Jane Levy ("Suburgatory") as Mia; Shiloh Fernandez (Deadgirl, Red Riding Hood) as David; Lou Taylor Pucci (Carriers) as Eric; Jessica Lucas (Cloverfield) as Olivia; and Elizabeth Blackmore (Legend of the Seeker) as Natalie all appear, and Bruce Campbell is also onboard as a producer with Sam Raimi.
The Evil Dead is due to arrive in UK cinemas 12th April 2013.
Synopsis:
In the much anticipated remake of the 1981 cult-hit horror film, five twenty-something friends become holed up in a remote cabin. When they discover a Book of the Dead, they unwittingly summon up dormant demons living in the nearby woods, which possess the youngsters in succession until only one is left intact to fight for survival.
(Follow me on Twitter)