Crawl (2011)
Directed by: Paul China
Written by: Paul China
Starring: Andy Barclay, George Shavtsov, Georgina Haig, Lauren Dillon, Paul Holmes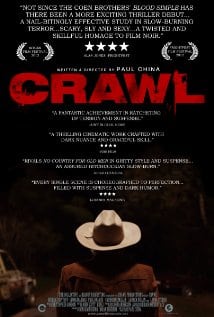 Crawl (2011)
(15) Running time: 78 minutes
Director: Paul China
Writer: Paul China
Cast: Georgina Haig, George Shevtsov, Paul Holmes, Andy Barclay, Lauren Dillon
Reviewed by: Matt Wavish
Crawl comes to UK DVD & Blu-ray with a massive reputation of creating nerve shattering suspense and nail biting tension, and I will admit to very much looking forward to the debut film of Paul China. The UK born writer and director made the film with his brother Ben China producing, and between them you'd never believe this was their first film. Yes, Crawl has some plot issues and genuine questionable actions, but overall the film really is exactly how it has been marketed: a ferocious experiment in building tension beyond belief, and a truly nail biting ride from start to finish.
Now, there will no doubt be plenty of comparisons to the Coen's No Country For Old Men here, and yes those comparisons are justified as Crawl does feature a mysterious killer who says very little, and is quite expressionless. Hell, he even ends up with a leg injury much like Javier Bardem's Anton, but sadly while China's vision doesn't come close to the brilliance of the Coen's (and to be fair not many films can), to even be mentioned in the same sentence as No Country For Old Men is a clear indication to the quality on offer here. Yes the similarities are often a little too strong, but Crawl heads off on its own, unique path that is one you will slowly walk down, and will walk away from feeling rather exhausted.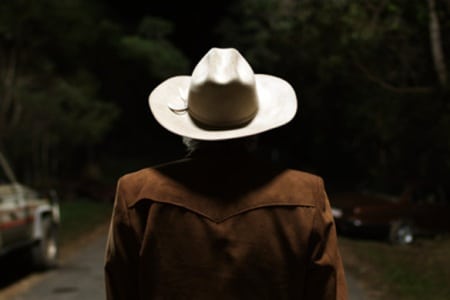 There is very little in the way of character or even story build up here, and the film is all the better for it. We meet the mysterious Croatian with his cowboy hat as he is about to pull off a hit on a gas station/garage owner. Much like No Country For Old Men, our killer walks in and strikes up a conversation, and George Shavtsov pulls off a wonderful, chilling performance that quickly makes you forget about the Coen's, and you will realise that China has his own story to tell. The conversation leads to the Croatian needing his car fixed, and a brief little moment of writing brilliance see's him claim his car to be "chocolate" coloured. This neat little joke is used a few times later on in the film to cool effect. The car is fixed, the price is too high and suddenly your nerves creep up on you as the killers expression ever so slightly changes. "A little birdie said you were greedy" he says, and kills him.
This is our introduction to The Stranger in the cowboy hat: a chilling, creepy old man who dominates the film and at times will really send shivers down your spine. Shevtsov's performance is calm, methodical, scary and unpredictable. He is confident and slow-moving to the point you feel he truly believes he is invincible. Nothing fazes him, and he comes across like a brilliant killing machine. He collects his money from local bar owner Slim Walding (a brilliant Paul Holmes) and heads off on his way, and this is where a number of different characters cross paths which lead to one fateful night of terror.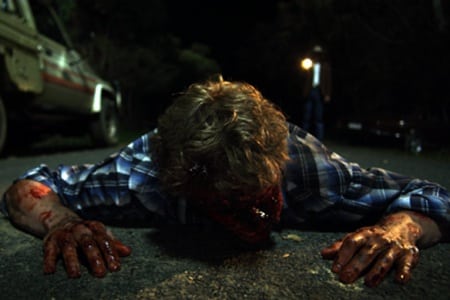 Slim Walding runs his bar, and while it is never explained just why he ordered the hit on the garage and gas station owner, it is clear there is a bitter rivalry between them. Walding also enjoys spanking one of his waitresses who owes him money, and he also brings much of the twisted comedy that lightens the mood now and again. When being interviewed by the local sheriff, his bar staff brings him a drink, and he tells the authorities "she's got some ass on her!". The proceeding silence is hilarious, and the facial expressions priceless. He also gets nosebleeds, brought on by stress, usually in the presence of "my wife" he hilariously says.
Then there's the beautiful and totally harmless Marilyn Burns (the stunning Georgina Haig), she also works at the bar and her boyfriend is expected home tonight after some time away. She is also expecting him to propose, and rushes home to set the mood. Instantly likeable and extremely pleasing on the eye, Haig rounds off a great cast of main characters who will all see this one night change their lives forever.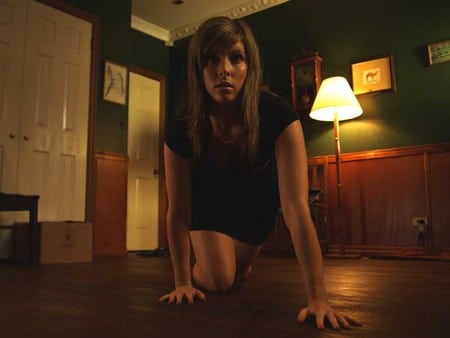 The plot crunch comes when The Stranger accidentally runs over the returning boyfriend after leaving the bar with his money. Literally five minutes away through the woods is Marilyn's house, and so The Stranger heads there in a attempt to get away from the scene of the crime. However, things are not that simple, and what follows is a truly intense experience of a cat and mouse game between The Stranger and Marilyn, and the next forty odd minutes will see viewers only needing the front half of their seats. China builds up suspense and unease masterfully, and quite literally out of nothing at all. Silence is the name of the game here, silence and very slow camera work.
Some have complained that the film is too drawn out, and that nothing happens. I disagree, the creation of tension is superbly delivered by simply allowing the viewer to become part of that tension. Music is used, to great effect I might add, every now and again, but the main focus is panic, utter panic as the characters creep around the house trying desperately to get the upper hand. There is very little dialogue too, and the set up pretty much relies on your belief in the characters, and you will believe them. The Stranger is a chilling presence, and really not someone you want creeping around your house. When he does dish out violence it is quick, brutal and savage. Marilyn, on the other hand, is sweet, innocent and sexy as hell and you will almost find yourself screaming "he's behind you!!!" just to help her.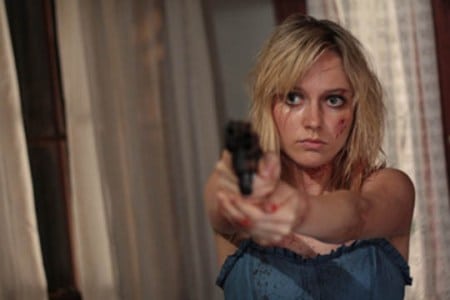 Gorgeous camerawork is used to superb effect. China's camera stays still, or drifts around following the characters as if it too is trying not to be seen. Every now and then the camera also glimpses something moving in the background, out of focus and the effect using this traditional scare tactic is terrific. There are also some wonderful shots of the Australian countryside at night, and one particular moment which really stood out for me is when The Strangers hat is on the floor and becomes engulfed in the blood of one of his victims.
Crawl proves that the UK has some serious new talent in the China Brothers, and on the evidence of this superb and fascinating thriller, there is a lot more to come from these extremely talented team. While it will not please everyone, those who do buy into Crawl's magnificent study of tension and real fear, will find themselves hugely rewarded with a film that is clever, menacing and most of all, frightening.
Rating: