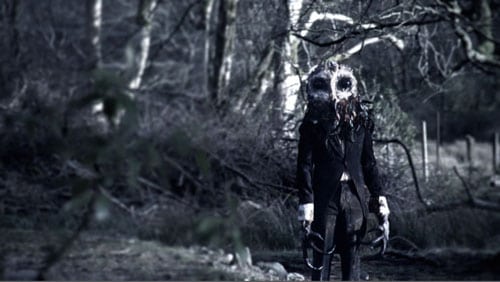 The Owlman Cometh and he doesn't look best pleased!
Lord of Tears is a startling, psychological, supernatural thriller set against the ominous backdrop of a cursed highland estate. The film features the voice of David Schofield (Gladiator, Pirates of the Caribbean) Lexy Hulme and Euan Douglas.
Lord of Tears tells the story of James Findlay, a school teacher plagued by recurring nightmares of a mysterious and unsettling entity.  Suspecting that his visions are linked to a dark incident in his past, James returns to his childhood home, a notorious mansion in the Scottish Highlands, where he uncovers the disturbing truth behind his dreams, and must fight to survive the brutal consequences of his curiosity…
[vimeo width="500″ height="281″]https://vimeo.com/60118572[/vimeo]
Directed by Lawrie Brewster, Lord of Tears is a Scottish produced Gothic romance with a kind of slendermanesque feel with hints of The Wicker Man and The Shining and a dash of Hammer! The story concerns a man cursed to be stalked by an immortal Owl headed God, as can be seen above disturbing picture.
The film is completed and is now available to pre-order via Kickstarter, with funds to be used to exhibit Lord of Tears at film festivals globally. Additionally goodies can be obtained from their Kickstarter, with larger donations offered increasingly better gifts in return.
This terrific looking, original gothic nightmare flick is written by Sarah Daly (cousin of Kate Bush), who's also known as the artist Metaphorest.
If you love ghost stories, pagan gods or are into the works of HP Lovecraft, then LORD OF TEARS will be up your street. The imagery on display from the trailer is disturbing to say the least and will crawl under your skin with it's iconic antagonist. Director Lawrie Brewster explains more about the film in the video below.
For more info, check out the official website and Facebook and to pre-order, visit the Lord of Tears Kickstarter campaign.