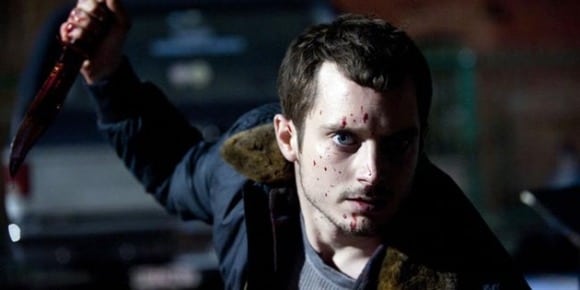 I have said this so many times you'd think I was getting tired of doing so, but I am not. Director Franck Khalfoun's Maniac remake is a phenomenal piece of work that simply has to be seen to be believed. One of the most savage, brutal and compelling horror films of recent memory, Maniac is one of those films that is guaranteed to leave a lasting impression. Check out my review to hear more of my thoughts.
A brand new UK  trailer was revealed last night, and it features some high praise for the film indeed by way of snippets from some reviews. Believe the hype, Maniac really is sensational, and when it arrives in UK cinemas on 15th March, be sure not to miss it. A must-see for every horror fan, and any fan of extreme cinema.
Directed by Franck Khalfoun, Maniac is written by Alexandre Aja and Gregory Levasseur. Elijah Woodd stars as the killer Frank, and the rest of the cast includes Nora Arnezeder, America Olivo, Liane Balaban and Sammi Rotibi.
Maniac arrives in UK cinemas 15th March 2013.
See all our previous stories, including my review  here
Synopsis:
Just when the streets seemed safe, a serial killer with a fetish for scalps is back and on the hunt.
Frank is the withdrawn owner of a mannequin store, but his life changes when young artist Anna appears asking for his help with her new exhibition. As their friendship develops and Frank's obsession escalates, it becomes clear that she has unleashed a long-repressed compulsion to stalk and kill.
A 21st century Jack the Ripper set in present-day LA, MANIAC is a re-boot of the cult film considered by many to be the most suspenseful slasher movie ever made – an intimate, visually daring, psychologically complex and profoundly horrific trip into the downward spiralling nightmare of a killer and his victims.
(Follow me on Twitter)