Resident Evi: Retribution (2012)
Directed by: Paul W.S. Anderson
Written by: Paul W.S. Anderson
Starring: Bingbing Li, Colin Salmon, Johann Urb, Kevin Durand, Michelle Rodriguez, Milla Jovovich, Oded Fehr, Shawn Williams, Sienna Guillory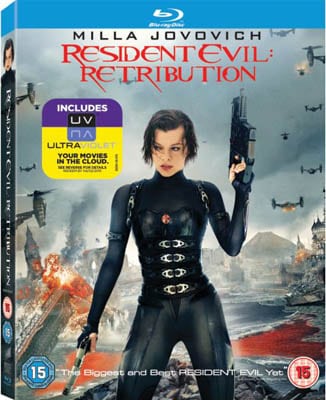 RESIDENT EVIL: RETRIBUTION (2012)
Written and directed by Paul W.S. Anderson
The Umbrella Corporation's deadly T-virus continues to ravage the Earth, transforming the global population into legions of the flesh eating Undead. The human race's last and only hope, Alice (Jovovich), awakens in the heart of Umbrella's most clandestine operations facility and unveils more of her mysterious past as she delves further into the complex. Without a safe haven, Alice continues to hunt those responsible for the outbreak; a chase that takes her from Tokyo to New York, Washington, D.C. and Moscow, culminating in a mind-blowing revelation that will force her to rethink everything that she once thought to be true. Aided by newfound allies and familiar friends, Alice must fight to survive long enough to escape a hostile world on the brink of oblivion. The countdown has begun.
I'm a huge fan of the first Resident Evil film. It has an incredible amount to offer, a dark, sinister edge to what plays out like a seemless action film at first. Its stars bring a unique personality to their roles and leading actress Milla Jovovich is fantastic as the mystery wife suffering from amnesia, who just so happens to be Umbrella's security officer and official bad ass mofo!
The second and third films slipped, with the plot weakening as each sequel progressed. Though Resident Evil: Apocalypse and Resident Evil: Extinction still retained a storyline that the average viewer could follow with ease whilst still injecting a huge amount of action that the franchise seems to love so much. Then came Resident Evil: Afterlife. I can honestly tell you I don't have a clue what was happening in that film other than a group of survivors wanting to reach their destination:  a safe haven called Arcadia. The plot was shrivelled and the script confused. So what have I got to say about the latest film? Well, it's better than Afterlife but still leaves a lot to be desired…
What I loved mainly about the first Resident Evil was its simplicity. We had the basic storyline mapped out and the rest of the twist, turns and set pieces were like sprinkles on a cake. The action sequences, when compared to the sequels, were realistic and kept to a minimum. The story drove the film, not the amount of bullets peppering the stalking undead. The fact that the whole environment of The Hive was computer controlled by a program, nicknamed The Red Queen, proved to have some sinister results. She, along with the cast of Michelle Rodriguez and Colin Salmon, who featured as the original rescue squad in Resident Evil, are iconic to the franchise and director Paul W.S. Anderson seemed to want to inject that nostalgia and style into this sequel.
The main plot or idea behind Resident Evil franchise is the fact that Umbrella Corporation's deadly T-Virus has ravaged the Earth's population and turned them into flesh-hungry living dead. As each sequel progresses, this idea is lost further and further, with only a small section of the film depicting these crazed mutated humans. In Retribution, parts of the film teases us with scenes of good ol' fashioned zombie horror, but the majority of it is taken up with gun-toting Alice battling her way through Umbrella's artificial environment in the underground outskirts of an icy Russia. A crack team are sent into the secret base to rescue Alice from the evil clutches of Umbrella, but as all the Resident Evil sequels go, that won't happen quickly or easily and will mean encountering a few mutated monsters along the way, most of whom have little or no explanation. Even the Las Plagas made an appearance, but to those who haven't had the fortune of playing the games, this section was totally unexplained and merely served as an opportunity to reference R.E. and 'power-up' a character.
It was great, however, to see characters like Ada Wong and Leon S. Kennedy introduced in Retribution, who are much loved by the video game enthusiasts. Bingbing Li and Johann Urb are the perfect choice to play these two iconic characters, respectively, though I wish that they would replace Alice as the lead character. As much as I like Milla Jovovich as an actress, Alice has had her day. We know she can't be killed so each film just turns into a display of how well she can kick ass, with and without the aid of an arsenal that would make the MOD weep. I'd love to see Milla with a proper character role, something to get her teeth into, much like she had in Resident Evil before she became this unstoppable, one-woman army. Anderson, again, teases us with scenes of Jovovich playing a character role and it was these human-type emotional roles that were my favourite parts of Resident Evil: Retribution. I'm afraid I can't stand the pointless CGI, all guns blazing environments that a good 3/4's of this film is tied up with.
So whilst there are many nods and characters from the past films to help reignite that lost flame, not even they could save Retribution. If I was Anderson, I'd rethink the whole concept of the Resident Evil franchise and have them as seperate stories with interlinking characters, much like the videogames. I'd love to see a film adaptation of Resident Evil 4, especially now that we've been introduced to Ada and Leon!
Rating: