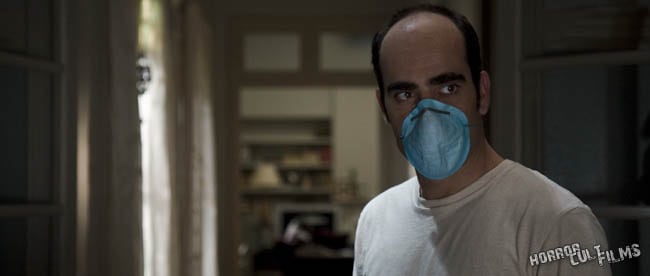 When our reviewer Dr Lenera went to Fright Fest last year, he came away talking about one film, and one film only, Sleep Tight. In fact, he loved it so much we ended up having to lock him in our basement for a few days just to cool off. Every other word that came out of his mouth was about Sleep Tight and how it quite simply blew him away. Fair enough, we all said, but we have to wait to see it and all the suspense is killing us. A few days in the basement did not work, it only meant that the poor fella had been sat on his own thinking about the film, and upon letting him out again, off he went again! So we gave up and just let him have his say.
The good Doc continued talking about the film for, oh, six months now, so finally, and thankfully for our own sanity, the film arrives on DVD here in the UK on 4th March. It has an RRP of £11.99, and my suggestion is that you get pre-ordering now! We have all pre-ordered Dr Lenera a copy, so he can have multiple copies to make some sort of cool Sleep Tight shrine in his secret hiding place!
As for us, just finally being able to see the film means we can all join Doc in his love for what he says was the best film he saw last year, and the old bugger is very choosy with what he likes. If he says it is great, then believe me, it is great! Check out Dr Lenera's review.
The DVD release on 4th March will be preceded by a limited cinema release on 1st March.
REC] director Jaume Balaguero says "Hola Hitchcock" in the scariest and most darkly unsettling psychological horror thriller. Unassuming Cesar is janitor at an upscale apartment block in Barcelona. However, his quiet politeness hides a much more sinister personality. His current obsession is Clara, the new cheerful tenant on the fifth floor. At night when Clara is fast asleep, Cesar sneaks into her flat – and bed – to appease his twisted fantasies. If only the pesky young girl down the corridor would mind her own business, and one senior citizen wouldn't poke her nose in. But soon Cesar's life is going to spiral out of all control due to a police investigation that threatens to ruin his whole miserable master plan… Provocative and intense, with Spanish superstar Luis Tosar delivering a sensationally disturbing performance, the growing tension, clever twists and startling chills will keep you biting your nails.