The Final Member (2012)
Directed by: Jonah Bekhor, Zach Math

Starring: Sigurdur Hjartarson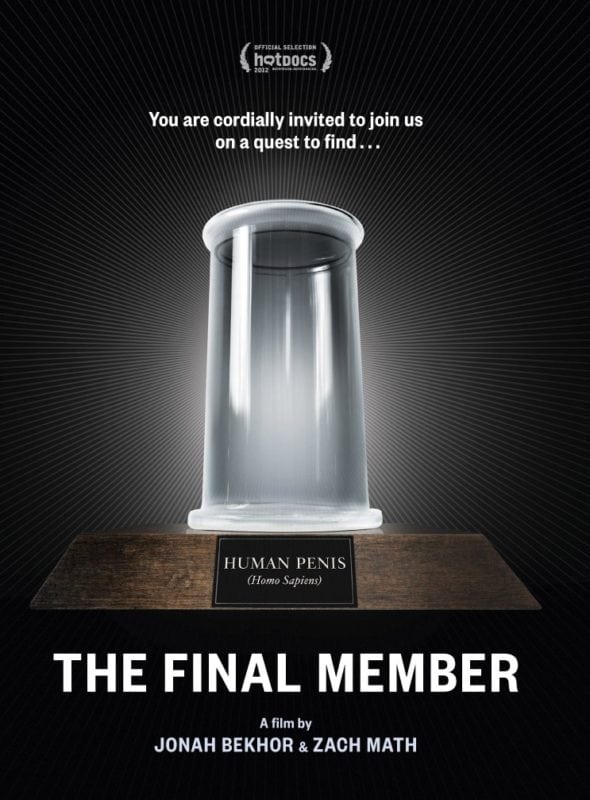 [youtube]https://www.youtube.com/watch?v=Dn_c-b0uivA[/youtube]
Running Time: 90 mins
Cerification: 15
Reviewer: David Gillespie – Official HCF Artist
If you happen to be travelling to the Arctic Circle on your holidays anytime soon it may be worthwhile dropping into the Icelandic Phallological Museum. Situated in the northern Icelandic town of Hasidic, the founder and curator, Sigurdur Hjartson has collected an extensive penis collection in the world's only museum dedicated to the male reproductory organ. It attracts 11,000 visitors each year. These range from medical students to curious holidaymakers. The collection ranges from the tiny hamster to the gigantic sperm whale sample. The only penis that has been outwith Sigurdur's grasp is that of a homosapien.
With Sigurdur reaching his twilight years and his health fading it seems that his chances of finding the elusive penis might be lost forever. Yet when all seems lost, two potential donors approach him at once. The first is a 93 year old, celebrity explorer and womaniser called Paul Arason who promises to donate his organ when he dies. The second is an odd Californian called Tom Mitchell who wants to immortalise his penis in the infamous collection. Tom also indicates that he might be willing to have his 'meat and veg' removed before he reaches his deathbed.

The Final Member is a true oddity. After the first third of the movie explaining the museum's history, the rest of the documentary focuses on three eccentric men who, for different reasons, are obsessed with the penis. Perhaps the most disturbing of these is Tom Mitchell who has developed his own superhero cartoon based on his 7″ appendage. Referring to his penis as Elmo, Tom is convinced that people will travel from around the globe to marvel at his wonderful cock. His deadpan delivery of these random statements is often side-splittingly funny. However the funniest scene is where a TV company film Arason attempting to plaster cast his private. The student gets the mixture wrong and the flamboyant pensioner finds his lunch box stuck to the gloopy mixture. The sequence gets even funnier when he loses his temper with the whole thing.
There are some moving parts to the documentary too. When Hjartson realises that a blood clot in his leg might result in him failing to complete his life's work you can't help but feel sorry him. Even Tom and Elmo evoke some sympathy. Although the American is more than a little mad, it is rather upsetting to witness a man have his dreams shattered in front of you.
If you're looking for something a little different then give The Final Member a little 'shoogle'.
Rating: