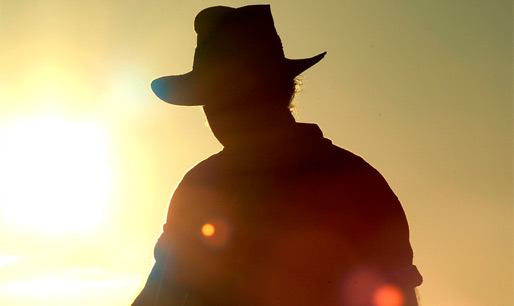 Australian website The Age have exclusively revealed the first behind the scenes image of the now filming Wolf Creek 2. The image simply shows actor John Jarratt returning as vile killer Mick Taylor, and the image shows director Greg Mclean giving him a directors speech. While it is nothing all that exciting, what is exciting is that it is proof that the film is indeed filming, and will be with us in the not to distant future.
Mclean spoke with The Age, and told them "I'm not really interested in gore and blood and stuff… I'm interested in why the character connected with Australian audiences. It's not about being a horror film – it's because Mick is about something else, something deep and dark in the Australian psyche."
"I don't think there's been a home-grown Australian horror film sequel before," he says. "No pressure."
Directed by Greg Mclean, written by Mclean and Aaron Sterns, and produced by Helen Leake (Swerve, Black and White, Heavens Burning), Greg Mclean, and Steve Topic (Crawlspace), Wolf Creek 2 starts production seven years after the original Wolf Creek hit screens internationally. John Jarratt once again steps out as the hauntingly sadistic Mick Taylor, the film also stars Ryan Corr (Packed to the Rafters), Shannon Ashlyn (Puberty Blues, Devil's Dust), and Philipe Klaus (Devil's Dust, Rake).
"It's really exciting to work with John Jarratt once more to delve deeper into the fascinating character of Mick Taylor. We've assembled a phenomenal cast and crew who are all working incredibly hard to deliver an even more thrilling ride than the first movie. It's bigger, badder, and should be a wild experience for audiences all over the world", said Greg Mclean.
Utilizing many of the same crew and production team, McLean has pulled together award-winning Cinematographer Toby Oliver (Looking for Alibrandi, Beneath Hill 60), Production Designer Rob Webb (The Loved Ones, Tomorrow When The War Began), Costume Designer Nicola Dunn (Red Hill, Rogue), Editor Sean Lahiff (Swerve), and Composer Johnny Klimek (Killer Elite, Cloud Atlas).
When Wolf Creek was released in November of 2005, it not only gave Australian audiences an appetite for their own horror movies but showed the world a fresh, daring take on the genre. Selected to screen at Sundance and the Cannes Film Festival, it was supported by The Weinstein Company, who presented it to an international audience. It then went on to claim the title of the number one Australian film in 2005 and also became the highest grossing Australian R18+ film of all time.
Wolf Creek 2 will be distributed in Australia by Roadshow Films. International sales are being handled by Arclight Films.
Synopsis:
Lured by the promise of an Australian holiday, backpackers Rutger, Katarina, and Paul visit the notorious Wolf Creek Crater. Their dream Outback adventure soon becomes an horrific reality when they encounter the site's most infamous local, the last man any traveler to the region ever wants to meet: Mick Taylor (John Jarratt).
As the backpackers flee, Mick pursues them on an epic white-knuckled rampage across hostile wasteland. Only one will remain to be dragged back to his lair to witness the true magnitude of his monstrosity. And if the last man standing is to have any hope of surviving where no one else has survived before, he'll have to use every ounce of cunning to outwit the man behind the monster and become every bit as ruthless as the monster inside the man.
(Source: The Age)