Arbitrage (2013)
Directed by: Nicholas Jarecki
Written by: Nicholas Jarecki
Starring: Brit Marling, Laetetia Costa, Nate Parker, Richard Gere, Susan Sarandon, Tim Roth

[youtube]https://www.youtube.com/watch?v=UmJSV9ePx7c[/youtube]
Running Time: 107 mins
Certification: 15
Reviewer: David Gillespie – HCF Official Artist 
On the surface Robert Miller (Richard Gere) is a successful entrepreneur with a loving family and is about to undergo the sale of his thriving trading company to a major bank. In reality he is up to his neck in fraudulent deals and cheating on his loyal wife, Ellen (Susan Sarandon) with a sexy but vacuous artist (Laetetia Costa). Robert is undeterred as he hasn't gotten to the top by playing it safe. When a tragic accident places his personal life and reputation under threat he turns to an unlikely ally from his past (Nate Parker) to get him out of trouble. What the businessman has not taken into account is the perseverance of a blue collar, detective (Tim Roth) to track him down for his crime. He detests everything that Miller stands for and is willing to cross the line to bring him to justice. What follows is a battle of wits as the cornered businessman uses all his experience and financial clout to escape the ever closing net.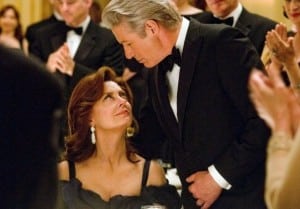 Apparently Al Pacino was the first actor that was considered for the role of Robert Miller.  Normally Pacino would get my vote over Gere any day of the week but in this instance, there is no doubting that the 'silver fox' is perfect for the role. He portrays an immoral man that will think and act immediately to get the job done whatever the collateral damage that might result in this process. Miller will not flinch or bat an eyelid when lying to those closest to him because he has always been able to get away with it. He seems to personify all the characteristics that we have come to despise from the high ranking, bank executives that have brought our world economy to a standstill with their greed. The supporting cast are great too with Tim Roth perfect as the creepy but determined detective and Susan Sarandon impressive as always as the conflicted wife.
Arbitrage is a powerful and satisfying thriller in its own right with a goodly number or twists and surprises throughout its running time. Yet it is the fantastic central performance from Gere that seems to take it to that higher stance.  
Rating: