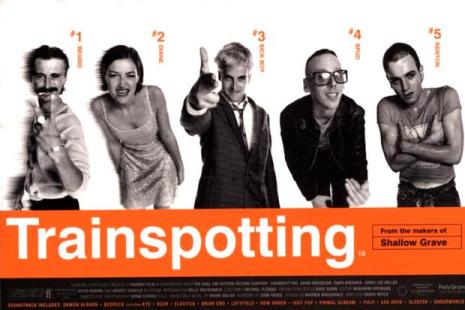 I love Danny Boyle's Trainspotting, the film is a true British classic in every sense of the word, and Boyle has gone from strength to strength since making it. The film made a star out of Ewan McGregor and quite rightly makes many top ten British film lists. The energy and brilliance of Trainspotting is rarely matched in cinema, so you can imagine my excitement that Danny Boyle is finally ready to push on with a sequel.
Boyle was at SXSW this weekend promoting his new film, Trance, and naturally took part in a number if interviews. Speaking with The Playlist, the director spoke of his plans to get a sequel made by bringing back the main cast of the first film:
"This has been a long time coming.  There's always been this long term plan for Trainspotting 2, if John [Hodge] can produce a decent enough script, I don't think there will be any barriers to Ewan [McGregor] or any of the cast coming back.  I think they'll wanna know that the parts are good so they don't feel like they are letting anyone down.  The reason for doing it again is that people cherish the original, people remember it or have caught up with it if they never saw because they were younger.  So you want to make sure you don't disappoint people.  That will be the only criteria I think."
No doubt the cast will want to come back, and I would imagine they are already planning on freeing up their schedules to be part of what will be a massive film. However, Ewan McGregor was snubbed by Boyle for the lead role in The Beach, and that part was given to Leonardo DiCaprio. It ended badly, and there was some bad blood between them. However, hopefully both can now put their differences aside, and McGregor even said recently "I would always read [a sequel script] if I was sent it."
The author of Trainspotting, Irvine Welsh, did right a follow up to Trainspotting called 'Porno', however Boyle does not want to base the sequel fully on that. Boyle has been reported as saying Porno is "not a great book in the way thatTrainspotting, the original novel, is genuinely a masterpiece." 
He also told the Playlist:
"It's very loosely based on Porno. There's a couple of things that are based on the book, but obviously we'd have to have Irvine [Welsh] on board."
Boyle also had a date in his mind for when he would like to see the film made. He is looking at celebrating twenty years of Trainspotting by hopefully having the sequel ready for 2016, twenty years after the film was released:
"Well, the ideal time would be Porno in 2016.  Because it was 1996 when Trainspotting came out.  Twenty years, it's like wow, where did that go."
We await, very excitedly, further news!
(Source: The Playlist)