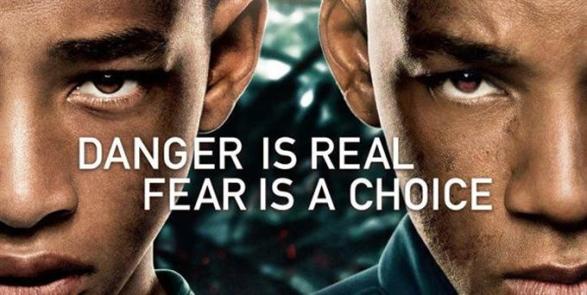 A brand new poster and trailer have been revealed for director M. Night Shyamalan's new epic sci-fi adventure, After Earth. The film stars Will and Jaden Smith and fans are hoping that this could be Shyamalan's big comeback.
The poster, in all honesty, is a bit naff with the age old half faces taking up the image. I am sure this style of poster died off in the nineties? Anyway, as if we didn't already know, the poster drums home the message that the film stars Smith Senior and Smith Junior.
A brand new trailer has also been revealed, which has an impressive amount of new footage to enjoy. It looks epic, with an awful lot of special effects but there are a lot of issues I have with this new trailer. Firstly, the accents! Just what kind of accent is Will Smith trying to pull off? At first it sounded kind of English, then it morphs into something else which I can't quite make out. Whatever it is, it sounds silly. Then, the horrible cheesy line of "it has found you" is so embarrassingly cringeworthy it makes me wonder if Shyamalan really has improved on his downward spiral. Tim will tell I guess. The film looks good in terms of special effects, but can the story and characters really hold it together?
Apparently there are plans in place to really go into a lot of detail on the background stories here, with a prequel comic and novella series all planned to arrive before the film lands in cinemas in June 2013.
Written and directed by M. Night Shyamalan, After Earth stars Will and Jaden Smith alongside Isabelle Fuhrman, Zoe Kravitz, David Denman and  Kristofer Hivju.
After Earth arrives in UK cinemas 7th June 2013.
Synopsis:
A crash landing leaves teenager Kitai Raige (Jaden Smith) and his legendary father Cypher (Will Smith) stranded on Earth, 1,000 years after cataclysmic events forced humanity's escape. With Cypher critically injured, Kitai must embark on a perilous journey to signal for help, facing uncharted terrain, evolved animal species that now rule the planet, and an unstoppable alien creature that escaped during the crash. Father and son must learn to work together and trust one another if they want any chance of returning home.