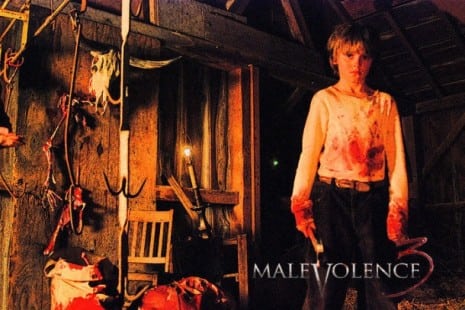 Writer and director Stevan Mena delivered two of horrors finest films over the past few years, 2003's stunning Malevolence and its prequel, the more vicious 2010 flick Bereavement. Now the director is set to complete his trilogy, with Malevolence 3, and he needs your help to do it!
Stevan Mena's debut feature film Malevolence was a surprise hit when it was released theatrically and on DVD. Written, co-produced and directed by Stevan, Malevolence told the shocking but enthralling story of masked serial killer Martin Bristol, whose story hit a nerve with horror fans and mainstream audiences all over the world. Intended as the second act of a sprawling trilogy, fans were rewarded in 2011 when Stevan explored the origins of Martin's tragic creation with Bereavement starring Michael Biehn and Alexandra Daddario. Now, the final suspenseful chapter is about to be told…but we need your help.
Mena Films announced today the launch of their Kickstarter page to start production of Malevolence 3. Once again, Stevan Mena is writing, directing and producing, along with longtime co-producer Tim Bristol and producer/actor Brian O'Halloran (Clerks). Through Kickstarter, fans can contribute funds towards commencing principal photography – even pre-ordering the Blu-ray™/DVD! In addition, fans who commit targeted minimum pledge amounts will be eligible for exclusive incentives including signed scripts, tickets to the premiere party, a Skype session with the cast and filmmakers – and a chance to appear in the film! The Malevolence 3 Kickstarter page can be found here.
"The movie business is changing. More and more control is being taken back by the filmmakers," observed O'Halloran. "Kickstarter is the perfect bridge between letting the fans decide what they want to see and putting the creative control back where it belongs."
"For the last couple of years, fans have kept asking when we will be able to complete the Martin Bristol trilogy," said Mena. "Through Kickstarter, fans will not only be able to help realize the final episode of Martin's story, but also pre-order the DVD, along with a menu of bonus perks for those who make significant pledges. It's the ultimate in customized entertainment!"
"Malevolence 3, like its predecessors, will be a shocking film. Unfortunately, the dark and"taboo" content of Bereavement has resulted in a lot of hesitation. I could allow Malevolence 3 to be censored and sanitized, but that would diminish core elements of the story that have already been established, which I think would be a disappointment to the fans who have supported us and the series so far. And myself" said Mena.
"So this time my crew and I have decided to go it alone. We are donating our time and money to the film, but we still are short from being able to get this completed. We need your support and I hope you will get involved to help us produce this film and keep it independent"
Synopsis:
Malevolence 3 is the final chapter of the Malevolence/Bereavement trilogy, written and directed by award winning filmmaker Stevan Mena. In this suspenseful conclusion to the story, Martin Bristol returns to where it all began: the home where he was kidnapped from. But he is not the boy who disappeared over 10 years ago. Tortured and abused at the hands of his psychotic captor, Graham Sutter, Martin is damaged beyond repair. Lurking in the shadows of suburbia, he stalks and kills without remorse, picking his victims at random – or are they? Special Agent William Perkins follows Martin's trail of terror, desperate to capture him before he kills again. Martin's family, mourning his disappearance for over 10 years, is informed not only that he is alive, but that he is responsible for the wave of murder sweeping through their town. Will they be able to reunite with their long lost son before it's too late, or will Perkins have to use excessive force to bring him down?