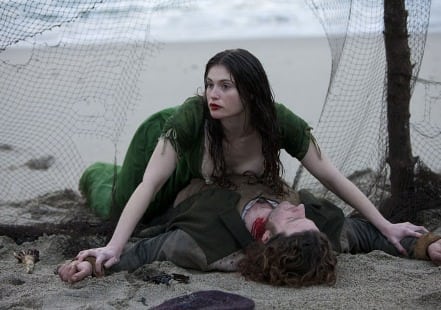 Do you like vampires? Do you find Gemma Arterton sexy? Does Caleb Landry Jones give you the shivers? Then you are in the right place as we have a rather impressive collection of images from Neil Jordan's new vampire flick, Byzantium.
The images include plenty of Gemma Arterton looking seductive and nasty as vampire mother Clara, and we also get a good look at Caleb Landry Jones as Frank, the love interest of Clara's daughter Eleanor (Saoirse Ronan). What we also get from these images is the super high quality of Jordan's film, looking authentic, dark and quite lovely for a serious vampire flick. Check out the image gallery below.
Neil Jordan directs from a script written by Moira Buffini (based on her play). The cast includes Gemma Arterton, Saoirse Ronan, Jonny Lee Miller, Caleb Landry Jones, Sam Riley, Tom Hollander, Christine Marzano and Daniel Mays.
Byzantium arrives in UK cinemas on May 3rd.
Synopsis:
On the run for murder, two young "sisters" arrive penniless at an English seaside town. Clara is a fiercely modern woman who has her eyes on the future and no time for the past. Teenager Eleanor is shy and innocent. Yet they both hide the same secrets: they are really mother and daughter, and they are both … vampires!
Eleanor is exhausted by 200 years on the run and desperate to settle down. But little does she know that her mother has been protecting her all of the years from their own kind, "The Brotherhood". To escape them, they must either blend in or continue running away. But just as they think they may have escaped, their past rapidly catches up with them.
[nggallery id=157]