Released 3rd July:
Now You See Me (12A) Running time: 115 minutes
Director: Louis Leterrier,  Writers: Ed Solomon, Boaz Yakin
Cast: Jesse Eisenberg, Isla Fisher, Mark Ruffalo, Michael Caine, Dave Franco, Morgan Freeman, Woody Harrelson
The Four Horsemen, a magic super-group led by the charismatic ATLAS (Jesse Eisenberg), perform a pair of high-tech magic shows, first astonishing audiences by robbing a bank on another continent, and then exposing a white-collar criminal and funneling his millions into the audience members' bank accounts.
FBI Special Agent DYLAN (Mark Ruffalo) is determined to make the magicians pay for their crimes—and to stop them before they pull off what promises to be an even more audacious heist. But he's forced to partner with ALMA (Melanie Laurent), an Interpol detective about whom he is instantly suspicious. Out of desperation he turns to THADDEUS (Morgan Freeman), a famed magic debunker, who claims the bank heist was accomplished using disguises and video trickery. One thing Dylan and Alma agree on is that the Horsemen must have an outside point person, and that finding him (or her) is key to ending the magicians' crime spree. Could it be Thaddeus? Or Alma? Or could it really be…magic?
As pressure mounts and the world awaits the Horsemen's spectacular final trick, Dylan and Alma race to find an answer. But it soon becomes painfully clear that staying one step ahead of these masters of illusion is beyond the skills of any one man—or woman.
Released 4th July:
The Internship (12A) Running time: 119 minutes
Director: Shawn Levy,  Writers: Vince Vaughn, Jared Stern
Cast: Vince Vaughn, Owen Wilson, Rose Byrne
Billy (Vince Vaughn) and Nick (Owen Wilson) are salesmen whose careers have been torpedoed by the digital world. Trying to prove they are not obsolete, they defy the odds by talking their way into a coveted internship at Google, along with a battalion of brilliant college students. But, gaining entrance to this utopia is only half the battle. Now they must compete with a group of the nation's most elite, tech-savvy geniuses to prove that necessity really is the mother of re-invention.
Released 5th July:
The Bling Ring (15) Running time: 90 minutes
Director: Sofia Coppola,  Writer: Sofia Coppola
Cast: Emma Watson, Katie Chang, Israel Broussard, Claire Julien, Taissa Farmiga,Georgia Rock, Leslie Mann
In the fame-obsessed world of Los Angeles, a group of teenagers take us on a thrilling and disturbing crime-spree in the Hollywood hills.  Based on true events, the group, who were fixated on the glamorous life, tracked their celebrity targets online, and stole more than 3 million in luxury goods from their homes. Their victims included Paris Hilton, Orlando Bloom, and Rachel Bilson, and the gang became known in the media as "The Bling Ring."
In THE BLING RING, Oscar Winning filmmaker Sofia Coppola takes us inside the world of these teens, where their youthful naivete and excitement is amplified by today's culture of celebrity and luxury brand obsession.  The members of the Bling Ring introduce us to temptations that any teenager would find hard to resist.  And what starts out as youthful fun spins out of control, revealing a sobering view of our modern culture.
A Field in England (15) Running time: 90 minutes
Director: Ben Wheatley,  Writers: Amy Jump, Ben Wheatley
Cast: Julian Barratt, Michael Smiley, Reece Shearsmith, Peter Ferdinando, Richard Glover, Ryan Pope
England : 1648 AD
A small group of deserters flee from a raging battle through an overgrown field. They are captured by two men: O'Neil and Cutler.
O'Neil (Michael Smiley), an alchemist, forces the group to aid him in his search to find a hidden treasure that he believes is buried in the field.
Crossing a vast mushroom circle, which provides their first meal, the group quickly descend into a chaos of arguments, fighting and paranoia, and, as it becomes clear that the treasure might be something other than gold, they slowly become victim to the terrifying energies trapped inside the field.
A Field In England is a psychedelic trip into magic and madness from Ben Wheatley – award-winning director of Down Terrace, Kill List and Sightseers.
Released July 12th:
Monsters University (U) Running time: 110 minutes
Director: Dan Scanlon,  Writers: Robert L. Baird, Daniel Gerson, Dan Scanlon
Cast: Nathan Fillion, Steve Buscemi, John Goodman, Aubrey Plaza, Billy Crystal, Helen Mirren, John Krasinski
Mike Wazowski and James P. Sullivan are an inseparable pair, but that wasn't always the case. From the moment these two mismatched monsters met they couldn't stand each other. "Monsters University" unlocks the door to how Mike and Sulley overcame their differences and became the best of friends.
Pacific Rim (12A) Running time: 131 minutes
Director: Guillermo del Toro, Writers: Travis Beacham, Guillermo del Toro, Drew Pearce
Cast: Idris Elba, Ron Perlman, Charlie Hunnam, Burn Gorman,Charlie Day, Clifton Collins Jr, Rinko Kikuchi
When legions of monstrous creatures, known as Kaiju, started rising from the sea, a war began that would take millions of lives and consume humanity's resources for years on end. To combat the giant Kaiju, a special type of weapon was devised: massive robots, called Jaegers, which are controlled simultaneously by two pilots whose minds are locked in a neural bridge. But even the Jaegers are proving nearly defenseless in the face of the relentless Kaiju. On the verge of defeat, the forces defending mankind have no choice but to turn to two unlikely heroes – a washed up former pilot (Charlie Hunnam) and an untested trainee (Rinko Kikuchi) – who are teamed to drive a legendary but seemingly obsolete Jaeger from the past. Together, they stand as mankind's last hope against the mounting apocalypse.
Released July 19th:
The Frozen Ground (15)  Running time: 105 minutes
Director: Scott Walker,  Writer: Scott Walker
Cast:  John Cusack, Nicolas Cage, Vanessa Hudgens, Radha Mitchell, Katherine LaNasa, 50 Cent, Dean Norris
"Frozen Ground" follows Alaskan detective Jack Halcombe  (Cage) as he sets out to end the murderous rampage of Robert Hansen (Cusack), a serial killer who has gone unnoticed for 13 years. As the bodies of street girls start to add up in Anchorage, fear strikes a chord with the public.  Risking his life, Detective Flothe goes on a personal manhunt to find the killer before the next body surfaces. When a seventeen year old escapee reveals key information about the case, Flothe is finally able to trail the killer. But will he catch him in time to save the next victim?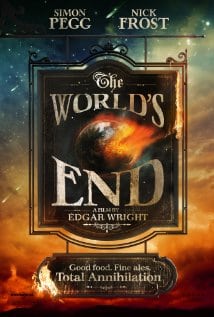 The World's End (15) Running time: 109 minutes
Director: Edgar Wright,  Writers: Simon Pegg, Edgar Wright
Cast: Simon Pegg, Nick Frost, Martin Freeman, Paddy Considine, Rosamund Pike, Eddie Marsan
20 years after attempting an epic pub crawl, five childhood friends reunite when one of them becomes hell bent on trying the drinking marathon again. They are convinced to stage an encore by mate Gary King, a 40-year old man trapped at the cigarette end of his teens, who drags his reluctant pals to their home town and once again attempts to reach the fabled pub, The World's End. As they attempt to reconcile the past and present, they realize the real struggle is for the future, not just theirs but humankind's. Reaching The World's End is the least of their worries.
Released 26th July:
The Wolverine (12A) Running time: 126 minutes
Director: James Mangold,  Writer: Mark Bombak, Chris Claremont, Scott Frank, James Mangold, Christopher McQuarrie
Cast: Hugh Jackman, Brian Tee, Will Yun Lee, Svetlana Khodchenkova, Hiroyuki Sanada, Rila Fukushima
Based on the celebrated comic book arc, this epic action-adventure takes Wolverine, the most iconic character of the X-Men universe, to modern day Japan. Out of his depth in an unknown world he faces his ultimate nemesis in a life-or-death battle that will leave him forever changed. Vulnerable for the first time and pushed to his physical and emotional limits, he confronts not only lethal samurai steel but also his inner struggle against his own immortality, emerging more powerful than we have ever seen him before.
Released 31st July:
The Heat (15) Running time: 117 minutes
Director: Paul Feig,  Writer: Katie Dippold
Cast: Sandra Bullock, Melissa McCarthy, Marlon Wayans, Tony Hale, Tom Wilson, Taran Killam

Uptight FBI Special Agent Sarah Ashburn (Sandra Bullock) and foul-mouthed Boston cop Shannon Mullins (Melissa McCarthy) couldn't be more incompatible. But when they join forces to bring down a ruthless drug lord, they become the last thing anyone expected: buddies.