Don't Move (2013)
Directed by: Anthony Melton, Bloody Cuts
Written by: David Scullion
Starring: Beth Cooper, Calvin Dean, Ian Whyte, Jake Hendriks, Kate Braithwaite, Martin Skipper, Rachel Bright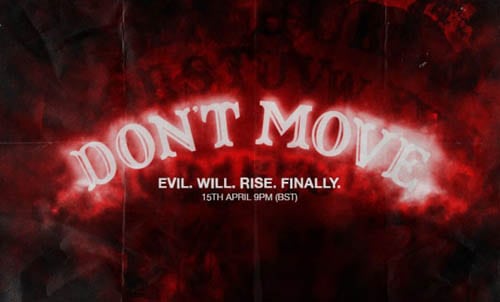 Bloody Cuts #8 – DON'T MOVE
Directed by Anthony Melton
Written by David Scullion
Six friends gather for their monthly 'games night' but their enjoyment soon takes a nasty turn when they accidentally unleash a demonic force.
Made in 3 days on a budget of £3000, thanks to the generous donators on Kickstarter, the Bloody Cuts team ramp up the blood, guts and gore in Don't Move, the eighth segment in their planned 13 short film horror anthology.
We all know not to play with Ouija boards but it appears the teens in this short movie didn't heed the advice and judging from the blood-curdling splatter in the opening credits, they've unleashed something terrifyingly evil that might tear them and their friendships apart. "5 must die, 1 must live. I Am Here." The bloodied notepad, coupled with a glass tumbler spinning on a blood-stained Ouija board are two of the iconic visuals in the film. The thing that tipped me over the edge besides the impressive, gory special FX, was the bone-crunching sound. Not since last year's Sinister have I heard sound used to such great effect that it creeped me the hell out in the first opening seconds. Geez! Are they trying to make me soil myself?! It makes you wonder.
Actor Ian Whyte, who played the Engineer in Ridley Scott's Prometheus, stars as the demon in Don't Move and his Pan's Labyrinth-esque prosthetic make-up will creep you out, especially with the added digital smoke-like body, giving the creature a real, other-worldly dimension. Think if Lost's Smoke Monster and Pan's Pale Man had a baby, this would be the result.
The cast do a wonderful and convincing job, especially seeing as they have to rely more on facial emotion rather than physical gestures, thanks to the demon's sense of movement. The pretrified look on their faces speak volumes and the lack of movement only emphasises the strain and panic of these people in this terrifying predicament. It all makes for a rather tense atmosphere, one at which I found myself sympathising with to the point of 'not moving' myself. This is a true testament to the Bloody Cuts team's stellar work.
A couple of Bloody Cuts earlier entries could have been watched by younger audiences but Don't Move's bloodythirsty attitude is not safe for young eyes, unless you want to give them nightmares for the rest of the year. Never over the top, the carnage feels real with quick, sudden outbursts leaving an unadulterated splattered mess.
Bloody Cuts continue to raise the bar of British horror and this terrific directorial-debut effort from the teams' editor and assistant director, Anthony Melton, along with a captivating tale by writer David Scullion, only further proves this fact. Don't Move is heart-stoppingly tense and frightening, and I just thank the lord it's only a few minutes long, I don't think my heart could take any more. 😉