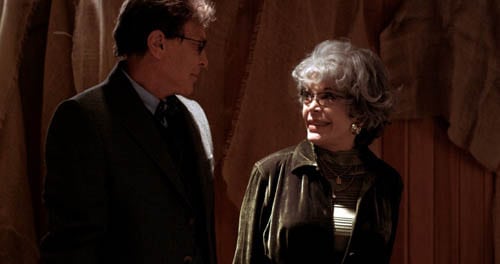 Cult film couple, stars Dyanne Thorne and Howard Maurer, from Don Edmonds' iconic ILSA series, have made 2013 the year of their triumphant return to the screen by appearing in not one, but TWO independent horror thrillers that are due for release later this year.
The first of these is HOUSE OF THE WITCHDOCTOR, directed by Devon Mikolas. Dyanne and Howard guest star as a quirky couple from the neighbourhood that become embroiled in a dangerous, horrific situation… The film also stars Bill Moseley, Leslie Easterbrook and Allan Kayser.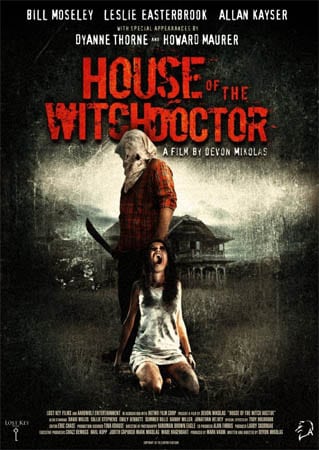 Evil wreaks pure havoc and bloody murder upon Leslie Van Hooten, a beautiful young girl, and her unsuspecting fellow grad students as they make their way to her family's extravagant and yet isolated estate.
Peter (Bill Moseley- Texas Chainsaw Massacre 3D, House of 1000 Corpses) and Irene Van Hooten (Leslie Easterbrook- The Devils Rejects, Police Academy), the young girls mother and father, leave the group alone for the weekend, so that she may mourn the anniversary of her boyfriends shocking murder.
But the peaceful weekend soon turns to hell when they find themselves being savagely terrorized by Cliff Rifton (Allan Kayser- Night of the Creeps, TVs Mamas Family), a crazed and recently released career criminal, and Buzz Schenk, his drug addict side kick whom are hell bent on raging a torturous killing spree.
But as the horrifying acts begin to unfold, the killers soon realize all is not as it seems in this house. And when some strange people from the neighborhood show up, Rose (Dyanne Thorne- Ilsa She Wolf of the SS) and Emmett (Howard Maurer- Ilsa Harem Keeper of the Oil Sheiks), the tables are turned. Now everyone is trapped inside and as the unheard screams and the body count begins to rise, it seems that death is now the only real escape from the House of the Witch Doctor.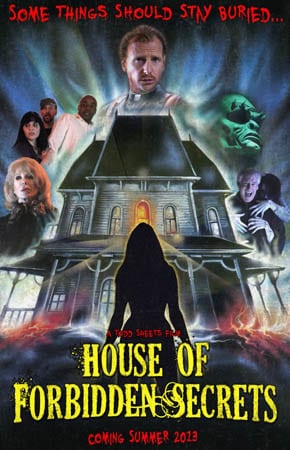 In the second of the horror thrillers, HOUSE OF FORBIDDEN SECRETS, Dyanne Thorne plays Madame Greta Gristina, presumably the woman in charge of the aforementioned house, whilst Howard Maurer stars as Klaus, Madame Greta's security. The film, which also stars Troma's very own Lloyd Kaufman, launched its first sneak peek trailer a couple of hours ago and we get to see a glimpse of Dyanne and Howard in action!

Jacob Hunt has had some very bad breaks in life. His wife left him, his friends have all abandoned him, and his children barely see him! Jacob has been given an amazing gift and the chance he needs to get back on his feet and start anew. Jacob has landed the job of overnight security officer at the old ShadowView Manor. It has now been turned into a commercial office and retail building. Jacob is about to learn nights around the old Manor contains many secrets. A dark past that is breaking through the boundaries of time, leaking into this dimension. As luck would have it, Jacob's first night on the job is the anniversary of a dark tragedy that has stained the building
Written and directed by Todd Sheets, HOUSE OF FORBIDDEN SECRETS also stars Antwoine Steele, Nicole Santorella, Michaela Paxton Tarbell and Lew Temple from hit horror TV series, The Walking Dead.
Both of these films are set for release in Autumn 2013, but make sure you're following Horror Cult Films to keep updated with any news on these projects as we aim to bring you the latest!
You can find more info on House of the Witch Doctor Facebook, House of Fordbidden Secrets Facebook and of course, on Dyanne and Howard's official website, DyanneThorne.com
Be sure to check out our exclusive interview with Dyanne Thorne and Howard Maurer!