All Ladies Do It, Così fan tutte (1992)
Directed by: Tinto Brass
Written by: Bernardino Zapponi, Francesco Costa, Ted Rusoff, Tinto Brass
Starring: Claudia Koll, Franco Branciaroli, Paolo Lanza

ALL LADIES DO IT (1992)
Directed and co-written by Tinto Brass
Diana (Claudia Koll) is a 24 year old young woman living in Rome, Italy with her husband of 5 years, Paplo (Paolo Lanza). Working in a lingerie shop with other women and meeting female customers who indulge in extra-marital flings ignites something inside of her. Although she is happily married and in love with Paolo, she can't help being drawn to intense, sexual satisfaction she gets from sleeping with strangers. Unfortunately, it's a step too far when she does so with a French poet in Venice and her husband Paolo threatens to leave. With her relationship on the rocks and her sexual desire thriving, can Paolo accept her needs to save their marriage?
ALL LADIES DO IT sees the return of Franco Branciaroli, who also starred in Tinto Brass' THE KEY. In this film, Franco plays Alphonse, a French poet who's the first to capture Diana's free spirit and show her what other sexual options she can explore. With their liason cut short, the curiosity gets Diana's juices flowing as she longs to sample anal penetration. After a trip to Venice where Alphonso lives, Diana decides to persue him and his offer and it is this act of adultery which upsets her husband. Unable to see the problem, Diana brushes off the fling as meaningless, especially due to their engagement in anal sex rather than vaginal, but Paolo is having none of it. Any sexual intercourse that is not with him is betrayal and their marriage begins to break down. Whilst watching this, I could understand full well why Paolo would be annoyed, but it seems that most people in the film are free and easy with their sexuality, having open marriages and allowing just about anyone to fondle with them. This is particularly apparent in a later scene where an orgy party is held out in the open with a very choice rendition of dance hit 'Everybody Dance Now'. As a matter of fact, everyone in this movie besides Paolo seems to have sex on the brain, and aren't shy about showing it. The main point of the story is the desire to be sexually liberated without feeling dirty or beng labelled 'a slut'.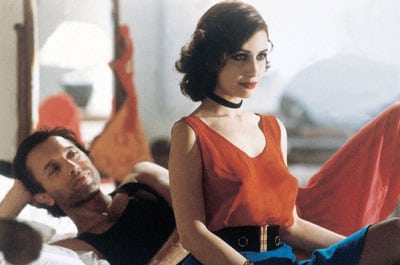 Diana is played by the stunning Claudia Koll who'd have been 27 years old at the time. There's lots of nudity in this film, much more than THE KEY, with women walking around naked, or at least partially naked, the norm. As you can imagine, there's lots of sex especially as Diana is on a quest to be deflowered anally, although Alphonse is the only gentleman to take that request up after initially suggesting it. Paolo Lanza plays the sexually inhibited husband who seems uptight and naive about what his wife gets up to, thinking her stories of sleeping with other men are pure fantasy, made up to turn him on. That is until he finds out they're actually true.
Tinto Brass manages to turn what some may class as porn into a beautiful, artistic erotica and whilst the message might not be as touching as The Key, All Ladies Do It still has the marriage and happiness of two individuals at heart. The colours, lavish set decor and use of mirrors associated with Brass films are present for all to see, along with the likable, if slightly comical, characters. As with his other titles, this film is shot wonderfully, with the camera angles adding to the story that unfolds.
Arrow Video have released All Ladies Do It uncut and uncensored, which is the version I've reviewed, and is available on dual format DVD and Blu-Ray in widescreen with optional English and Italian audio and newly translated English subtitles. The transfer is crisp and the audio exquisite for an older film. Complete with original trailer, resersible sleeve and collectors booklet, the Arrow release is definitely the one to get, along with their release of The Key which is released on the same day.
Rating: