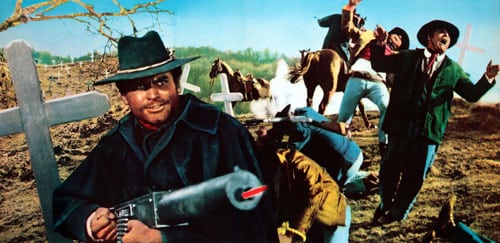 Following a brand new HD restoration of the film by the world-renowned Cineteca di Bologna, Arrow Video is pleased to confirm the UK Blu-ray premiere of Ferdinando Baldi's "Django Prepare A Coffin" on Monday June 10th.
Starring Terence Hill (They Call Me Trinity) as the wandering gunslinger, "Prepare A Coffin" is a long lost sequel to Sergio Corbucci's 1966 Spaghetti Western classic Django – the film that inspired Quentin Tarantino's Oscar winning smash-hit Django Unchained.
In "Prepare A Coffin", Django is hired as executioner by a corrupt local politician who is framing innocent men and sending them to hang, in an evil scheme to take hold of their land. Unfortunately for the politician, Django has other ideas and, cleverly faking the deaths of the condemned men, he assembles them into a loyal gang who'll help him take down the boss, a man who had a hand in the death of Django's wife years before.
Watch as Django gets his bloody revenge with a hail of bullets in this classic from a series of B-movie westerns that helped to define a genre… Prepare your coffin now!
In addition to the beautifully restored digital transfer, the blu-ray release of "Django Prepare A Coffin" comes complete with brand new reversible artwork, "Django Explained" – a new interview with Spaghetti Western expert and author Kevin Grant, English and Italian audio tracks (with newly translated subtitles for the Italian audio), the original theatrical trailer, and a collector's booklet with writing on the film by Howard Hughes.