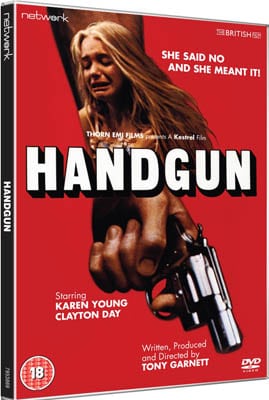 Karen Young (Birdy, Heat) gives a powerfully intense performance as a victim of sexual violence who turns vigilante in this female revenge thriller, HANDGUN (18 TBC). Written, produced and directed by British film veteran Tony Garnett, it is available on DVD as a brand new transfer in its correct cinema aspect ratio for the first time in the UK on 20 May 2013, RRP £9.99.
With one broken relationship still fresh in her mind, Kathleen Sullivan (Karen Young) is in no mood to take on a new boyfriend. But macho Larry (Clayton Day) will not tolerate sexual rebuffs; rape is his means of exercising what he regards as a male prerogative.
Consumed by anger and hungry for vengeance, how will Kathleen reclaim her freedom and peace of mind?
Special Features:
Music-only audio track
Original theatrical trailers
Archive interview with Tony Garnett
Image galleries
Press book PDF.