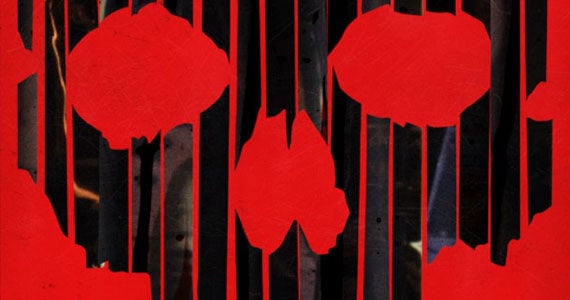 Horror anthology sequel, VH2/S, is now available in the US on VOD, and word of mouth is saying the film is bigger in scope, and a huge improvement on the first film. I am also reading many comments that Adam Wingard's Clinical Trials segment is the best, and this must be a massive boost to his already strong reputation as a horror director.
So far, Wingard has directed the stunning horror films, A Horrible Way to Die and Home Sick, plus one of the most creative shorts in the ABC's of Death anthology, "Q Is For Quack", and his segment in the first VHS anthology, "Tape 56" was one of the best for that film too. Now his celebrated segment in VHS/2 has its own superb poster, and you can view it below courtesy of  Apple trailers.
V/H/S 2 arrived on VOD in the US from June 6th, and will have a theatrical release from July 12th. There are no UK dates announced at this time.
The directors for V/H/S 2 include Gareth Evans ( The Raid and Merantau), Eduardo Sanchez (Lovely Molly, The Blair Witch Project) along with his producing partner Gregg Hale, Jason Eisener (Hobo With A Shotgun) and Timo Tjahjanto (Macabre, The ABC's of Death) will be joining returning writer and director Adam Wingard (V/H/S, You're Next, A Horrible Way To Die), and writer/producer Simon Barrett (V/H/S, You're Next, A Horrible Way To Die) will be making his directorial debut.
Synopsis:
Inside a darkened house looms a column of TVs littered with VHS tapes, a pagan shrine to forgotten analog gods. The screens crackle and pop endlessly with monochrome vistas of static—white noise permeating the brain and fogging concentration. But you must fight the urge to relax: this is no mere movie night. Those obsolete spools contain more than just magnetic tape. They are imprinted with the very soul of evil.
From the demented minds that brought you last year's V/H/S comes V/H/S/2, an all-new anthology of dread, madness, and gore. This follow-up ventures even further down the demented path blazed by its predecessor, discovering new and terrifying territory in the genre. This is modern horror at its most inventive, shrewdly subverting our expectations about viral videos in ways that are just as satisfying as they are sadistic. The result is the rarest of all tapes—a second generation with no loss of quality.