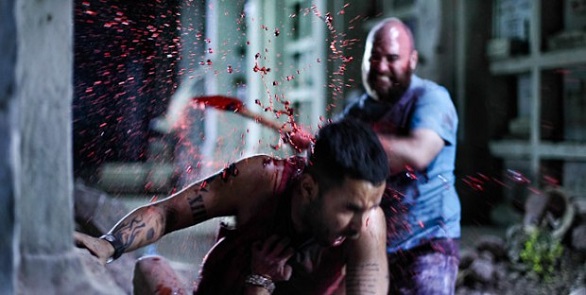 The gory earthquake horror, Aftershock, which is written and produced by Eli Roth (who also stars) is making its way to DVD and Blu-ray here in the UK on August 19th. To celebrate the event, we have a look at the official DVD artwork, plus Optimum Releasing have kindly unleashed a new trailer for the film.
Even though it has has mixed reviews, I personally think it looks like a huge amount of nasty fun, and I cannot wait!
Aftershock is directed by Nicolas Lopez. Eli Roth stars alongside singer Selena Gomez and Ariel Levy, Nicolas Martinez, Lorenza Izzo, Natasha Yarovenko, Andrea Osvart and Miguel Asensio will also feature in the film. Roth and director Lopez wrote the script together, with Lopez recounting some of his own experiences from a devastating Earthquake in Chile in 2010.
Synopsis:
Chile has it all: gorgeous landscapes, smokin'- hot women, cool dudes, great wine, and the wildest parties. For a hapless American tourist, nicknamed Gringo (Eli Roth) by his two Chilean pals Ariel (Ariel Levy) and Pollo (Nicolás Martínez), the trip has been heaven on earth — except that he just can't hook up with the ladies. Gringo's luck seems to change when the group meets a trio of babes — Russian model Irina (Natasha Yarovenko), non-stop party girl Kylie (Lorenza Izzo) and her serious sister Monica (Andrea Osvárt) — who agree to accompany them on a trip to the coastal town of Valparaíso. The new friends are having the best of times whooping it up in a dance club, until a violent earthquake brings the entire city down around them. With this one-time paradise now a landscape of death and destruction that's seething with terror and panic, our unlucky heroes must run for their lives from looters, escaped convicts, and the inevitable aftershocks.