Released 4th October:
Filth- UK Release (18) Running time: 97 minutes
Director: Jon S. Baird, Writers: Irvine Welsh, Jon S. Baird
Cast: James McAvoy, Jamie Bell, Imogen Poots, Eddie Marsan, Joanne Froggatt, Jim Broadbent, Martin Compston
Scheming Bruce Robertson (James McAvoy), a bigoted and corrupt policeman, is in line for a promotion and will stop at nothing to get what he wants. Enlisted to solve a brutal murder and threatened by the aspirations of his colleagues, including Ray Lennox (Jamie Bell), Bruce sets about ensuring their ruin, right under the nose of unwitting Chief Inspector Toal. As he turns his colleagues against one another by stealing their wives and exposing their secrets, Bruce starts to lose himself in a web of deceit that he can no longer control. His past is slowly catching up with him, and a missing wife, a crippling drug habit and suspicious colleagues start to take their toll on his sanity. The question is: can he keep his grip on reality long enough to disentangle himself from the filth?
How I Live Now (15) Running time: 101 minutes
Director: Kevin Macdonald,  Writers: Jeremy Brock, Tony Grisoni, Meg Rosoff, Penelope Skinner, Jack Thorne
Cast: Saoirse Ronan, George MacKat, Tom Holland, Anna Chancellor
Fifteen-year-old Daisy is sent from Manhattan to England to visit her aunt and cousins she's never met: three boys near her age, and their little sister. Her aunt goes away on business soon after Daisy arrives. The next day bombs go off as London is attacked and occupied by an unnamed enemy.
As power fails, and systems fail, the farm becomes more isolated. Despite the war, it's a kind of Eden, with no adults in charge and no rules, a place where Daisy's uncanny bond with her cousins grows into something rare and extraordinary. But the war is everywhere, and Daisy and her cousins must lead each other into a world that is unknown in the scariest, most elemental way.
Released 11th October:
100 Bloody Acres (15) Running time: 91 minutes
Directors: Cameron Cairnes, Colin Cairnes,  Writers: Cameron Cairnes, Colin Cairnes
Cast: Damon Herriman, Angus Sampson, Anna McGahan, John Jarratt
The use of dead car crash victims in the Morgan Brothers' "Blood and Bone" fertiliser has been a huge boon to business. But it's been months since their last find and an important new customer is waiting on a delivery. When Reg Morgan, the junior partner in the business, comes across three young people stranded on a remote country road, he sees a radical solution to their supply problems, and a way of finally gaining the respect of his bossy big brother, Lindsay. But things don't quite go to plan when Reg starts forming an attachment with one of their captives, Sophie. Reg must now make a decision: go through with the plan and finally win Lindsay's approval, or save the kids and destroy everything the brothers have worked for. They're not psycho killers… they're just small business operators.
Machete Kills (15) Running time: 107 minutes
Director: Robert Rodriguez,  Writer: Kyle Ward, Robert Rodriguez
Cast: Danny Trejo, Michelle Rodriguez, Sofia Vergara, Amber Heard, Carlos Estevez, Lady Gaga, Antonio Banderas, Jessica Alba, Demian Bichir, Alexa Vega, Vanessa Hudgens, Cuba Gooding, Jr., William Sadler, Marko Zaror, Mel Gibson
In MACHETE KILLS, Danny Trejo returns as ex-Federale agent MACHETE, who is recruited by the President of the United States for a mission which would be impossible for any mortal man – he must take down a madman revolutionary and an eccentric billionaire arms dealer who has hatched a plan to spread war and anarchy across the planet.
Released 18th October:
Captain Phillips (12A) Running time: 134 minutes
Director: Paul Greengrass, Writers: Billy Ray, Richard Phillips
Cast: Tom Hanks, Max Martini, Catherine Keener, Maria Dizzia
Captain Phillips is director Paul Greengrass's multi-layered examination of the 2009 hijacking of the U.S. container ship Maersk Alabama by a crew of Somali pirates.  It is – through Greengrass's distinctive lens – simultaneously a pulse-pounding thriller and a complex portrait of the myriad effects of globalization.  The film focuses on the relationship between the Alabama's commanding officer, Captain Richard Phillips (two time Academy Award® winner Tom Hanks), and his Somali counterpart, Muse (Barkhad Abdi).  Set on an incontrovertible collision course off the coast of Somalia, both men will find themselves paying the human toll for economic forces outside of their control.  The film is directed by Academy Award® nominee Paul Greengrass, from a screenplay by Billy Ray based upon the book, A Captain's Duty: Somali Pirates, Navy SEALs, and Dangerous Days at Sea, by Richard Phillips with Stephan Talty.  The film is produced by Scott Rudin, Dana Brunetti, and Michael De Luca.
Escape Plan (15) Running time: 116 minutes
Director: Mikael Hafstrom,  Writers: Miles Chapman, Jason Keller
Cast: Sylvester Stallone, Arnold Schwarzenegger, Vincent D'Onofrio, Vinnie Jones, Jim Caviezel, Sam Neill, Amy Ryan, 50 Cent
Escape Plan follows Ray Breslin (Stallone) who is the world's foremost authority on structural security. He's analyzed every high security prison and has gained a vast array of survival skills. But all Ray's ingenuity and knowledge are about to be put to work in the most challenging test he's ever faced: escaping from the master prison of his own design.
Schwarzenegger, in the role of Church, plays a complex inmate with multiple shades of grey. He's the guy who fights to keep the prisoners from losing their humanity in their darkest hour as they struggle together to stay alive.
Last Passenger (15) Running time: 97 minutes
Director: Omid Nooshin,  Writers: Omid Nooshin, Andy Love
Cast: Dougray Scott, Kara Tointon, Iddo Goldberg, David Schofield, Lindsay Duncan
Lewis Shaler (Dougray Scott) is an overworked doctor and devoted single dad heading home with his young son on the last train from London. When he strikes up a relationship with a beautiful and flirtatious stranger, Lewis believes life is finally looking up. But events then take a dark turn when Lewis discovers the guard has mysteriously vanished and the brakes have been sabotaged. Unknown to the handful of remaining passengers, a vengeful sociopath has taken control of the train and is hellbent on crashing it, taking his passengers with him to the grave.
As the speeding locomotive ploughs through stations and level crossings, the body count rises and panic turns to terror. Lewis realizes that the police are powerless to stop the diesel-powered 'slammer' train, and the desperate passengers must find their own way out of this nightmare. Lewis takes the lead in a series of increasingly perilous missions to stop the train before the driver can realize his dark plan…
Prince Avalanche (15) Running time: 94 minutes
Director: David Gordon Green,  Writers: Hafsteinn Gunnar Sigurosson, David Gordon Green
Cast: Paul Rudd, Emile Hirsch, Lance LeGault,
Two highway road workers spend the summer of 1988 away from their city lives. The isolated landscape becomes a place of misadventure as the men find themselves at odds with each other and the women they left behind.
Turbo (U) Running time: 96 minutes
Director: David Soren, Writers: Darren Lemke, Robert D. Siegel
Cast: Ryan Reynolds, Paul Giamatti, Samuel L. Jackson, Michael Pena, Luis Guzman
All his life, Theo the garden snail has lived a slow lane life with dreams of speed at the Indy 500. Suddenly, a freak mishap gives him the ability to move at superspeed, which puts Theo and his brother at a failing strip mall. They are discovered by Tito, a goofy fast food worker, and his crew of racing snails, and a wild idea is born for Theo to race with his heroes in Indianapolis. Now, this gang of misfits are traveling to that city to dare pursue the impossible dream, which will require all of Theo's speed as Turbo to have any shot at achieving.
Released 25th October:
Closed Circuit (15) Running time: 96 minutes
Director: John Crowley,  Writer: Steven Knight
Cast: Eric Bana, Jim Broadbent, Rebecca Hall
A high-profile terrorism case unexpectedly binds together two ex-lovers on the defense team – testing the limits of their loyalties and placing their lives in jeopardy.
Ender's Game (12A) Running time: 114 minutes
Director: Gavin Hood,  Writers: Gavin Hood, Orson Scott Card
Cast: Harrison Ford, Ben Kingsley, Abigail Breslin, Hailee Steinfeld, Asa Butterfield, Viola Davis
In the near future, a hostile alien race (called the Formics) have attacked Earth," the synopsis reads. "If not for the legendary heroics of International Fleet Commander, Mazer Rackham (Ben Kingsley), all would have been lost. In preparation for the next attack, the highly esteemed Colonel Graff (Harrison Ford) and the International Military are training only the best young children to find the future Mazer. Ender Wiggin (Asa Butterfield), a shy, but strategically brilliant boy is pulled out of his school to join the elite.
Arriving at Battle School, Ender quickly and easily masters increasingly difficult war games, distinguishing himself and winning respect amongst his peers. Ender is soon ordained by Graff as the military's next great hope, resulting in his promotion to Command School. Once there, he's trained by Mazer Rackham, himself, to lead his fellow soldiers into an epic battle that will determine the future of Earth and save the human race.
The Selfish Giant (15) Running time: 91 minutes
Director: Clio Barnard,  Writer: Clio Barnard
Cast: Conner Chapman, Shaun Thomas, Sean Gilder
Inspired by Oscar Wilde's story of the same name, The Selfish Giant is a contemporary fable about two teenage boys who get caught up in the world of copper theft. The second feature from writer/director Clio Barnard (The Arbor)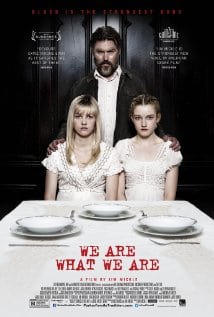 We Are What We Are (18) Running time: 105 minutes
Director: Jim Mickle,  Writers: Nick Damici, Jim Mickle
Cast: Ambyr Childers, Odeya Rush, Bill Sage, Julia Garner, Michael Parks, Nick Damici, Kelly McGillis
A seemingly wholesome and benevolent family, the Parkers have always kept to themselves, and for good reason. Behind closed doors, patriarch Frank (Bill Sage, BOARDWALK EMPIRE) rules his family with a rigorous fervor, determined to keep his ancestral customs intact at any cost.  As a torrential rainstorm moves into the area, tragedy strikes and his daughters Iris (Ambyr Childers) and Rose (Julia Garner) are forced to assume responsibilities that extend beyond those of a typical family.  As the unrelenting downpour continues to flood their small town, the local authorities begin to uncover clues that bring them closer to the secret that the Parkers have held closely for so many years.
Released 30th October:
Thor: The Dark World (12A) Running time: 120 minutes
Director: Alan Taylor,  Writers: Don Payne, Christopher Yost
Cast: Chris Hemsworth, Natalie Portman, Anthony Hopkins, Idris Elba, Kat Dennings, Tom Hiddleston, Christopher Eccleston
Marvel's "Thor: The Dark World" continues the big-screen adventures of Thor, the Mighty Avenger, as he battles to save Earth and all the Nine Realms from a shadowy enemy that predates the universe itself. In the aftermath of Marvel's "Thor" and "Marvel's The Avengers," Thor fights to restore order across the cosmos…but an ancient race led by the vengeful Malekith returns to plunge the universe back into darkness. Faced with an enemy that even Odin and Asgard cannot withstand, Thor must embark on his most perilous and personal journey yet, one that will reunite him with Jane Foster and force him to sacrifice everything to save us all.
Released 31st October:
The Haunting in Connecticut 2: Ghosts of Georgia (15) Running time: 101 minutes
Director: Tom Elkins,  Writer: David Coggeshall
Cast: Abigail Spencer, Emily Alyn Lind, Chad Michael, Morgana Shaw, Chad Michael Murray, Katee Sackhoff
When Andy Wyrick moves his wife Lisa and daughter Heidi to an historic home in Georgia, they quickly discover they are not the house's only inhabitants. Joined by Lisa's free-spirited sister, Joyce, the family soon comes face-to-face with a bone-chilling mystery born of a deranged desire… a haunting secret rising from underground and threatening to bring down anyone in its path.
(no trailer available)
Vampires in Venice (TBC) Running time: TBC
Director: Deborah Goodwin,  Writer: Deborah Goodwin
Cast: Bill Cobbs, Obi Ndefo, Jennifer Skyler, Tyler Shamy
A naive young actor must defend his humanity against the resident blood suckers and Fans of the undead in Venice, CA.