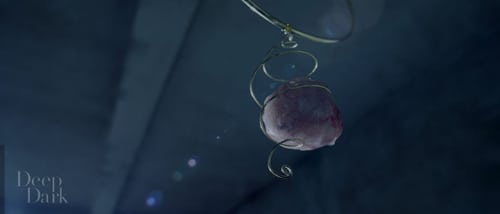 We're pleased to share with our reader two brand new stills from Michael Medaglia's upcoming film, DEEP DARK, exclusive to HorrorCultFilms.
The film follows Hermann (Cell Count's Sean McGrath) and his muse's strange relationship, and the portrayal of the violence that develops between them. Polluted Pictures describes it as a modern cocktail of several genres, the film serves up equal parts psychological horror and romance, because after all, love can be a little scary.
Michael Medaglia says, "Deep Dark is an indie film with an original story. It's not a sequel. It's not a reboot and it's not a foreign film remade in the US. It's not based on a toy, comic book or popular children's fiction series. A film like this could only be made independently and that's how we are making it… outside of the system."
Co-Producer Todd E. Freeman adds that, "Deep Dark is different. This movie is being made for the viewers on the fringe. The ones that don't necessarily like their content safe. The viewer that used to watch movies late at night on HBO or Cinemax, and enjoyed the sense of excitement of truly original films where anything could happen at any moment. We're making a movie for people like us… different, original, and slightly dangerous."
The film is currently in production, but has also requested post production funds after securing 80% of their budget through traditional funds. The KickStarter Campaign asks for backers to commit funding from as little as $1 to contribute to the completion of editing, sound design, and visual effects with perks in return for the donation. Check out the Deep Dark campaign. There's plenty of cool to perks to be had, especially the $20 for the digital download as well as offering 12 behind the scenes videos of the shoot for those who pledge over $10.
Above is the first of the two HCF exclusive stills, with the second below. Check out the Facebook page for more information and behind the scenes shots.