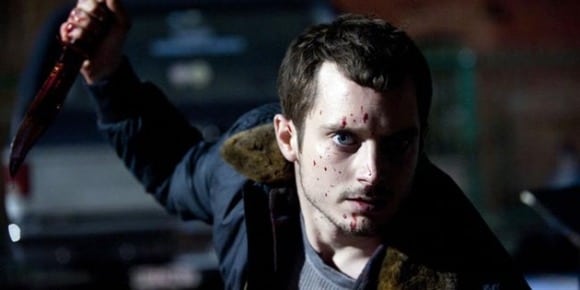 Directed by Cary Murnion and Jonathan Milott, production for the upcoming horror comedy film Cooties, is due to commence right on schedule next week, and they have now confirmed some cast members. According to Deadline, Alison Pill (The Newsroom) is set to play Lucy, "an eternally optimistic 4th grade teacher" and Rainn Wilson (The Office) as Wade,  "an ex-athlete turned PE teacher". Jack McVrayer (20 Rock) and Jorge Garcia (Lost) will also star in the film.
Saw and Insidious co-creator and star Leigh Whannell and Ian Brennan, have written the screenplay.
Elijah Wood is set to both star in and produce Cooties  and will be released under Wood's new horror label, The Woodshed.
Cooties focuses on a mysterious virus that infects an isolated elementary school and transforms the kids into psychotic savages.  An unlikely hero leads the teachers in a fight for survival against the crazed students.
Press release for the start of production on Cooties is below:
Principal photography will begin Monday, July 15th on the horror-comedy, Cooties starring Elijah Wood, Alison Pill and Rainn Wilson.  The film also stars Jack McBrayer Jorgé Garcia, Nasim Pedrad and Leigh Whannell.  The commercial-directing duo, HONEST (Jonathan Milott and Cary Murnion) make their feature-film directorial debut from a screenplay by Leigh Whannell and Ian Brennan.  In addition to starring in the film, Elijah Wood also serves as producer with his SpectreVision partners, Daniel Noah and Josh C. Waller. Steven Schneider also produces, as well as Tove Christensen and Georgy Malkov of Glacier Films, who are financing the feature. Glacier's Vladimir Poliakov, Sarik Andreasyan, Gevond Andreasyan and Hayden Christensen serve as Executive Producers.
A cautionary tale of a school lunch program gone horribly wrong, Cooties tells the story of a young girl who eats a chicken nugget infected with a virulent disease.  She begins to transform into a violent, murderous flesh-ripping juvenile who transmits the disease, which only affects the pre-pubescent.  As it quickly spreads, the teachers find themselves trapped in the school, faced with a horde of rampaging adolescents, and must come up with an immediate lesson plan to save their very lives.
Wood will portray Clint Hadson, a substitute teacher who must deal with a little more than the usual classroom hijinks.  Alison Pill is Lucy, an eternally optimistic 4th grade teacher and Clint's childhood crush. Wilson portrays Wade, a former high school all-star athlete whose dashed dreams have landed him the position of PE teacher.
Elijah Wood is currently on screen as the star of Maniac, and is known to millions worldwide for his portrayal of Frodo, in the Lord of the Rings trilogy.  Wood also stars in the FX series Wilfred, currently in its third season.
Alison Pill can be seen as part of the award-nominated cast of the gripping Aaron Sorkin HBO drama The Newsroom.  Ms. Pill has appeared in two films for director Woody Allen, To Rome With Love and Midnight in Paris, and co-starred in the cult classic Scott Pilgrim vs. the World.
Rainn Wilson recently completed his long-running, Emmy Award-nominated role of Dwight Schrute in the NBC sitcom The Office.  He has starred in feature films such as Super and The Rocker.
Jack McBrayer was nominated for an Emmy as the eager, naïve page, Kenneth Parcell in his nine seasons employed at NBC's 30 Rock.  The actor has also lent his voice to many animated series and films, including Wreck It Ralph, Bob's Burgers and Phineas and Ferb.
Jorge Garcia is best known for his portrayal of Hurley, stranded on a mysterious island in Lost.  He went from one inhospitable island to another, as one of the stars of the FOX series Alcatraz.  He stars opposite Anna Kendrick and Bryan Cranston in the upcoming feature, Get a Job.
Nasim Pedrad is in her fourth season as one of the ensemble cast of Saturday Night Live.  She has been featured in the series Allen Gregoryand ER, as well as the features The Dictator and The Lorax, among others.
In addition to his writing and producing credits, Leigh Whannell has been featured as an actor in numerous films.  He recently reprised his role as 'Specs' from Insidious in the upcoming Insidious: Chapter 2 and is also the star of the Australian crime film The Mule, which he also wrote.
Cooties screenwriters Leigh Whannell and Ian Brennan  are (separately) the creators of two hit series on polar ends of the entertainment spectrum. Whannell was the Co-Creator and writer of the first three chapters of the Saw motion picture franchise, as well as Insidious(1&2) and Brennan the Co-Creator and Executive Producer of the long-running series Glee, for which he has received two Golden Globes. Brennan will also appear in a featured role in Cooties.
Cooties is the second film in production for Glacier Films, with American Heist currently shooting in New Orleans.
Financing for Cooties has been arranged by Paradigm who are handling North American sales.
Cooties will shoot entirely in the Los Angeles area.