The ABC's of Death (2012)
Directed by: Ben Wheatley, Marcel Sarmiento, Ti West, Timo Tjahjanto, Xavier Gens
Written by: Ben Wheatley, Nacho Vigalondo, Ti West, Xavier Gens
Starring: Michael Smiley, Neil Maskell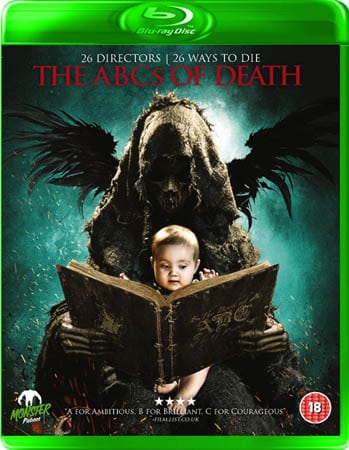 Running Time: 124 mins
Certification: 18
Reviewer: David Gillespie- HCF Official Artist
I loved Christmas as a child. My simple formula when opening presents was the order of smallest to largest sized gifts. Yet my parent's trump card was the inclusion of a box in which they would insert an assortment of tiny presents. You never quite knew what was going to be in the box and my heart would always beat that little bit faster when I begin opening these. They weren't expensive or always to my taste but they were eclectic and wonderful nonetheless.
I also adore horror anthologies. The general consensus by the critics is that they are patchy affairs with one segment emerging stronger than the rest. With the ABC's of Death you get 26 tales covering all the letters of the alphabet. An array of horror directors with five grand to spend put their own twisted skills to the test and although some tales might not tickle your fancy, the bulk of them pass muster.
Trying to summarize the entire contents of the ABC's of Death is difficult but I'll have a go anyway. The first 3 segments, consisting of Apocolypse, Bigfoot and Cycle are impressive opening chapters. The first story, directed by Nacho Vigalondo (Timecrimes) is extremely gruesome with some magnificent make-up effects. It features a wife viciously attacking her husband with a kitchen knife . When the kitchen knife fails to finish the job, she then moves on to alternative means. Bigfoot is a five minute slasher tale about a randy babysitter that efforts to get a insomniac brat to go to sleep backfires on him and his girlfriend.  Ernesto Diaz Espinoza's Cycle is a bite sized version of Timecrimes with a young man stumbling through a dimensional gateway upon entering a garden bush.
(Man's best frieeennnnnddddurrrgh…gurgle)
The film peaks early at the letter 'D'. I cannot recommend the chapter titled, 'Dogfight' strongly enough. It is an extraordinary short with breath-taking, stylish and nauseating sound effects and visuals. Marcel Sarmiento produces a mini masterpiece with next to no budget. The director uses his dog trainer as the lead fighter and has him face up to the elemental pooch. The results are incredible. The director has the cheek to turn the story on its head with a clever and satisfying twist. The only other feature that I am aware that Sarmiento has directed in the past was the unappreciated, Dead Girl but I'll be waiting for his next project with bated breath.
Having reached such heights with the fourth chapter it is understandable that the next seven stories do not reach the same dizzy heights. In many instances the stories rely on scatological humour with F (Fart), K (Kapoo) and H (Hydro Electrical Diffusion) seeming a little out of place in a horror anthology. We also get one of the most disappointing chapters with a point of view death in G (Gravity). Things get back on track with the distasteful but brilliant L (Libido) directed by Timo Tjahjanto. This has the same sickening tone as A Serbian Film. It opens with a group of masked cult members overlooking a masturbation contest between two bound men. With one hand free, the competitior who ejaculates first wins and the loser dies in a rather uncomfortable fashion. To aid them in their goal they have live sexual acts performed in front of them. As each stage passes, the acts become increasingly perverse and repugnant. This is my vote as the most offensive of all the stories but it is expertly shot with superb makeup effects. Libido is the horror highlight in the anthology.
The middle section is a mixed bag, including a lazy segment from Ti West (M – Miscarriage), a pesky and very funny parrot sketch by Banjong Pisanthanakum (N -Nuptials) and a stylish and surreal, oral sex scene by the Amer team of Bruno Forzana and Helene Cattet (O -Orgasm). I 'm still not convinced about Ti West. Many a HCF reviewer (Matt Wavish, Ross Hughes and Dr Lenera) respect this guy and his stylish, but painfully slow, build up, yet there is little to get excited about during this piece of work. It's almost as if his heart isn't in it?
The same cannot be said of the impressive entry by Serbian Film's director, Srdjan Spasojeevic. He tackles the letter R (Removed) with a tale about a prisoner whose flesh is surgically removed on a daily basis by a group of scientists. I didn't know what the hell was going on here but the imagery seems to have some tie in with the media or press? Of the remaining letters perhaps Ben Wheatley's first person/ creature feature U (Unearthed), Kare Andrew's ambitious sci-fi actioner (V -Vagitus) and the Xavier Gen's sickening warning of the pressure of conforming to the perfect figure (X – XXL) are the most successful. Vagitus features heavily in the trailer for the ABC's of Death and it is astonishing that Andrew's has kept within his five thousand pound budget when you witness the special effects on display.
It goes without saying that most horror anthologies are going to be patchy. Normally a common theme (The Twilight Zone: The Movie) or story (Cat's Eye) ties the strands together to overcome this factor. The reason that I enjoyed The ABC's of Death so much is that, similarly to Grindhouse, the makers have taken a leap of faith with something a little different. With only the constraints of a letter and a micro budget, they have allowed a group of talented filmmakers the chance to let their imaginations go wild with the bulk of them either hitting the mark or in a few cases, raising the stakes. How many films can boast such diverse content as giant robots, Nazi women with giant dicks, a monster toilet, a killer turd, death by fart, a devious parrot, kitten stamping, dog fighting, zombie clowns and a paraplegic pleasuring herself with her prosthetic leg? It will take something special to overtake The ABC's of Death as my favourite horror film of 2013.
Rating:
or
Outstanding : D, L and R   – 8 to 9/10
Very Good : A, O, U, V and X  – 7 to 8/10
Good: B, F, H, N and  T  – 6 to 7/10
Bawz: G and M –  2 to 4/10