On the 12th July 2013, Ciaran Foy's debut feature film, urban horror flick CITADEL, hits the cinema screens and we've decided to compile our Top 5 moments from the suspenseful film to celebrate the release.
Car Door Reflection
This scene occurs just a couple of minutes into the movie, as Tommy leaves his wife in the apartment block whilst carries some of their luggage downstairs to the taxi. As he opens the taxi door and put the bags inside, we see the reflection of 3 figures walking past, unseen by Tommy. This subtle moment hints at the disturbing scenes to come.
View from the Lift
Whilst travelling in the apartment block's lift to return to his wife, Tommy is puzzled when the lift door refuses to open when he reaches his desired floor. With his wife in plain view through the lift window, Tommy tries to open it himself when he spots three hooded figures appear in the hallway and start walking towards his wife. When their actions quickly turn out to be sinister, Tommy struggles helplessly as he is trapped from saving the women he loves.
Attack with the Priest
Trying to confront his fears, Tommy takes a car ride with the priest to the tower block he once lived in, which houses the hoodies. Smelling his fear, the hoodies swarm out the building and attack their car. Tense stuff!
Underground horror
Tommy's only friend Marie helps him to overcome his agoraphobia as they take a walk with his baby daughter, Elsa. As they approach the underground passageway, Tommy spots a group of hoodies and freezes to the spot. Marie insists there's nothing to worry about, they're simply troubled youths who just need talking to and walks over to the group as Tommy watches in horror.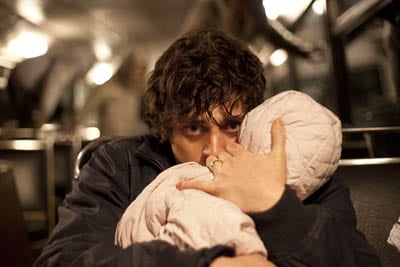 Bus Invasion
Escaping the hooded youths, Tommy boards a bus but despite Tommy's pleas for help, nobody seems concerned of the hoodies chasing him. Catching his breath in the comfort of the top deck, Tommy freezes with horror as the bus suddenly stops and he hears a blood-curdling cry.
Catch CITADEL in UK cinemas from 12th July 2013