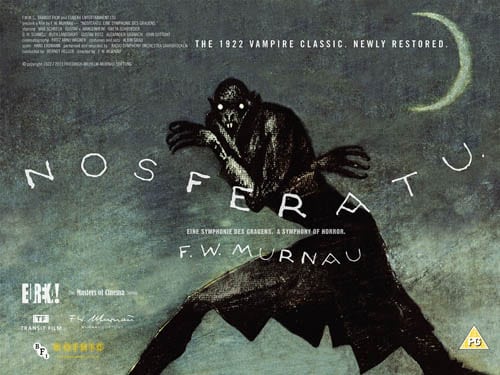 Eureka! Entertainment are delighted to announce the Halloween 2013 theatrical and home video releases of an eagerly awaited new restoration of F. W. Murnau's legendary silent cinema horror classic Nosferatu: A Symphony of Horror (1922), expertly restored in Germany by the world-renowned Friedrich-Wilhelm-Murnau-Stiftung (FWMS).
This revival of a horror classic, one of the most famous of all silent films, follows Eureka! Entertainment's hugely successful restoration showcases of Fritz Lang's Metropolis (1927) in 2010 and Carl Theodor Dreyer's The Passion of Joan of Arc (1928) in 2012.
Nosferatu's UK theatrical run will be co-ordinated by Eureka! Entertainment and will open in selected cinemas nationwide on Friday October 25, 2013, just in time for Halloween, and will also feature as part of the BFI's GOTHIC: The Dark Heart of Film which runs from 21st October 2013 – 31st January 2014. This year the BFI will take Britain back to darker times and thrill the nation by uncovering, as never before, the dark heart of film. With over 150 titles and around 1000 screenings GOTHIC features spectacularly terrifying special events to thrill every corner of the UK. GOTHIC will explore film's most popular theme, spawning some of the medium's most iconic, powerful and terrifying scenes and characters whose lasting popularity just refuses to die www.bfi.org.uk/gothic.
Blu-ray, Blu-ray SteelBook and DVD releases of Nosferatu will follow with a raft of special features to be announced nearer the release date, as part of Eureka! Entertainment's award-winning The Masters of Cinema Series  www.mastersofcinema.org.
Ron Benson, head of Eureka! Entertainment, comments: "Eureka! Entertainment have had the real pleasure of releasing some of the absolute classics of silent cinema, and there are arguably no more iconic than F. W. Murnau's Nosferatu, the grandfather of all vampire films, which continues to thrill, chill, and horrify audiences nearly 100 years after it was made."
Craig Keller, producer of The Masters of Cinema Series, adds: "This new restoration of Nosferatu has been meticulously prepared and looks truly outstanding. It will allow a new generation to experience afresh one of the greatest of all cinematographic horrors, and a monument of German expressionism, looking better than ever. The film is uncanny, legitimately terrifying – to see it on the big screen in the midst of the Halloween season will make for an unforgettable experience."