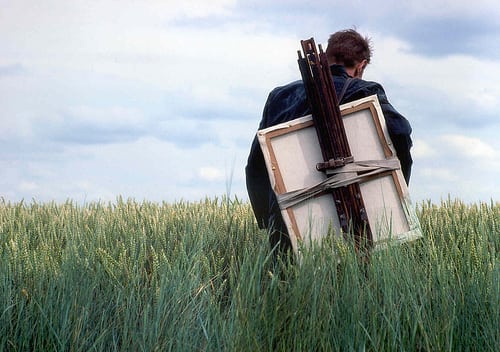 Eureka Entertainment have announced that they will be releasing VAN GOGH, considered by some to be the greatest film by Maurice Pialat, the legendary French filmmaker, seven of whose previous films have been given Masters of Cinema editions (including L'Enfance-nue and A nos amours). Van Gogh, the epic and powerful bio-pic of the final weeks in the life of Vincent van Gogh, will be released on DVD and Blu-ray on 23rd September 2013.
One of the greatest films by one of the finest directors of the second half of the 20th century, Maurice Pialat's Van Gogh represents an ambitious and crowning achievement in its portrayal of the master painter's final weeks of life, almost exactly one-hundred years earlier.
Van Gogh, depicted by the remarkable actor/songwriter-singer Jacques Dutronc (Godard's Sauve qui peut (la vie)), has arrived at Auvers-sur-Oise to come under the care of Dr. Gachet (Gérard Séty) for his nervous agitation. Soon after the arrival of Vincent's brother Théo (Bernard Le Coq) and his wife, plein air portraiture and conviviality give way to the more crepuscular moods of brothels and cabarets, and the painter's anguished existence, tossing between money worries and an impassioned relationship with the doctor's teenage daughter, finally meets its terminal scene.
With its loosely factual and wholly inspired treatment of the last period of Van Gogh's life, Pialat's film applies an impressionist touch to the biographical picture — indeed, the filmmaker was himself an accomplished painter, and the personal resonance of the subject matter results in an epic, major late work. The Masters of Cinema Series is proud to present Maurice Pialat's Van Gogh on Blu-ray for the first time in the UK, and also in a special two-disc DVD edition.
SPECIAL BLU-RAY AND 'TWO-DISC DVD' EDITIONS:
• Gorgeous new restoration of the film, appearing in 1080p on the Blu-ray
• New and improved optional English subtitles
• Van Gogh (1965) — a short, early documentary about the painter, by Maurice Pialat
• A 10-minute video interview with Pialat from 1991
• A 50-minute video interview with Pialat from 1992
• Video interviews with actors Jacques Dutronc and Bernard Le Coq; director of photography Emmanuel Machuel; and editor Yann Dedet
• Deleted scenes
• Original theatrical trailer
• 56-PAGE BOOKLET containing a new and exclusive essay by critic Sabrina Marques; Jean-Luc Godard's letter to Pialat after seeing the film, followed by Godard's tribute to Pialat upon the director's passing in 2003; copious newly translated interviews with Maurice Pialat; images of Pialat's canvasses; rare imagery; and more!