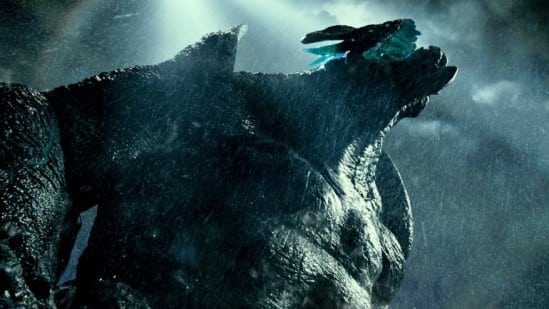 Earlier today we reported on a very cool TOHO Godzilla style Pacific Rim trailer, and in that report I briefly mentioned that Warners and Legendary will be watching how well Pacific Rim performs in China this week, and all hopes for a sequel could rest on its China opening. If the films performed well, then there was a good chance that a sequel could be greenlit.
Well, Guillermo del Toro's terrific action blockbuster opened in China yesterday, and I think we all knew deep down that the Chinese would love it, and they did! In fact, they were so excited to see the film that Pacific Rim scored a whopping $9 million in its first day in China, a record opening for Warners the Chinese territory, and a very very positive sign that the sequel will likely be happening.
The $9 million opening meant that Pacific Rim took a massive 70% of the top five market share for Wednesday in China, and this performance has even topped films like the Harry Potter series. In fact, Pacific Rim has opened 23% bigger than the best performing Harry Potter film in China, a huge, massive win for del Toro and his giant robots and monsters. Better still, the film will be opening in Japan on August 9th, another perfect target market.
Pacific Rim opened better than expected in the US, taking $37 million on its opening weekend, but for a film which cost between $180-220 million, this was a worrying performance for Warners and Legendary. The film is not expected to exceed $100 million in the US, so all eyes were on sales outside of the US, and considering the films cast, the expectation was that it would deliver the numbers elsewhere, and it certainly has.
Pacific Rim became the number one film worldwide, achieving a very respectful box office gross of $140 million. Added to the US number, del Toro's film has taken $229 million worldwide, and with such a strong Chinese opening, and Japan, Spain and Brazil opening on August 9th, the film should make a small amount of profit.
Naturally, with the Pacific Rim universe now secured with fans the world over, a sequel seems much more of a good idea, with fans hungry to come back for more. The Pacific Rim brand is now well known, and sequel prospects have a good omen.
Pacific Rim writers Travis Beacham and del Toro were asked to draft some sequel ideas for Legendary a short while ago, in preparation for a sequel should the film perform well. Now it seems that those sequel plans may actually happen, although there has been no official word from Warners or Legendary.
The bad news is whether del Toro will actually have the time to return to direct, should a sequel be greenlit. I would imagine the sequel will be expected to happen quickly to live off the buzz still surrounding the film, but del Toro is busy directing the pilot episode for his new vampire TV series The Strain, and then he will get to work on his new horror film, Crimson Peak. This could mean that del Toro will only be involved in the film as writer and probably producer.
I guess we will just have to wait and see what comes next, and keep our fingers crossed that a sequel does get announced soon.