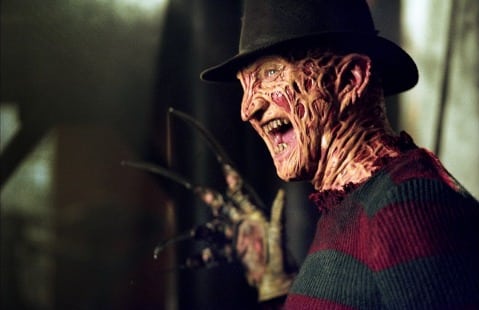 Any horror fan should have at least one Nightmare on Elm Street movie they love. Me, I love the entire series, but would count the first film, and New Nightmare among my favourites. Whatever your favourite is, you'll love the below video created by The Springwood Slasher.
The one minute video manages to squeeze in every Freddy Krueger kill in the Nightmare on Elm Street series, from the very first film right the way up to Freddy vs Jason, and it is a lot of fun. The video was actually posted on-line two years ago, but is getting a welcome resurrection on horror sites.
Here is how the Springwood Slasher describes his work:
While you are sleeping, he's working his ass off. Freddy might not beat Jason when it comes to the number of victims, but he sure has an impressive list of kills. A quick look at all those poor souls who lost their lives when meeting this clawed monster in their dreams.
This video contains the onscreen death scenes from A Nightmare on Elm Street, A Nightmare on Elm Street 2: Freddy's Revenge, A Nightmare on Elm Street 3: Dream Warriors, A Nightmare on Elm Street 4: The Dream Master, A Nightmare on Elm Street 5: The Dream Child, Freddy's Dead: The Final Nightmare, Wes Craven's New Nightmare and Freddy vs Jason. 
Note: Scenes from the A Nightmare on Elm Street remake were not included.