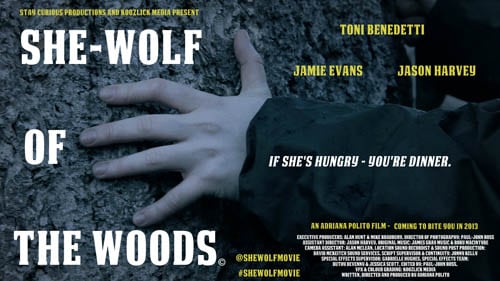 Glasgow-based Stay Curious Productions have announced that they are in the final stages of post-production on SHE-WOLF OF THE WOODS, the short horror comedy from independent writer, director and producer, Adriana Polito.
Adriana's first short film production was Dysmorphia, a body horror by Andy Stewart that American Mary directors, Jen & Sylvia Soska, described as "the best short film we have ever seen."
SHE-WOLF OF THE WOODS takes a look at the ritualistic aspects of a female werewolf as she goes about her day-to-day business in a small Scottish village. Influenced by European genre films, Noir, Grindhouse and the Nudie Cuties of the 1960s, this 30 minute short pays subtle homage to some of Adriana's favourite horror movies, and marks her directorial debut.
Cinematography, editing, VFX and colour grading were handled by Adriana's long-term creative collaborative partner, and the Director of Photography on Dysmorphia, Paul-John Ross of Koozlick Media.
Originally intended as a feature film, SHE-WOLF OF THE WOODS was later re-written as a short. The film was 97% self-funded, shot over three days in May 2013, involved the participation of almost an entire rural Scottish village and cost £3,000 to make.
Adriana says, "I'll be eating a lot of crackers until I've paid off what I borrowed to make the film, but the truth is that almost all the cast and crew services, and local production help on this film, were provided for free. It was an incredibly professional and committed team, the best a girl could ask for."
Adriana says that the last minute drop out of her lead actress, just one week before the shoot, was nerve-wracking. "Out of a bad situation came Toni Benedetti, an amazingly talented young actress who, despite being put through her paces out in the Scottish wilderness, delivers a brave and striking performance." Of her leading man, she says "I hate using ridiculous percentages, but Jamie Evan's performance in this film is off the scale, he gave it 1000 percent and it shows."
SHE-WOLF OF THE WOODS is being submitted to festivals this autumn and Adriana's excited to see what people make of this adult themed psychological take on the werewolf curse.
"I'm really proud of it, and of my cast & crew. Together, we've made something I find very beautiful to watch."
Adriana will be at this year's Film 4 Frightfest and is hoping the film will be finished by the 22nd of August so that she can offer up a sneaky peek to horror fans in between films. "If you're attending, please do say hello, I won't bite……much."
You can watch the teaser trailer for Adriana Polito's She-Wolf Of The Woods below.