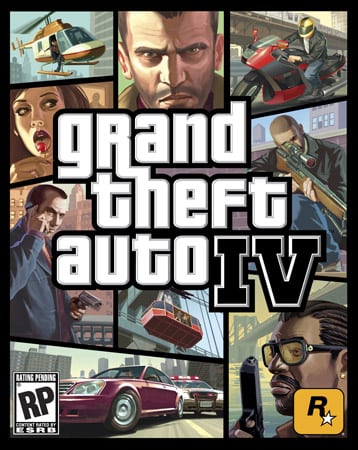 Until now, Grand Theft Auto IV was probably the most anticipated game of its generation. This was the series first foray into the 360/PS3 generation and expectations were high. Following the epic San Andreas, and on more powerful systems no less, meant that Rockstar really had to knock this out of the park. And in many ways they did. Returning to a Liberty City that has been reinvented from ground up, GTA IV is the story of eastern European illegal immigrant Niko Belic, fresh off the boat and ready to chase the American Dream. But with this being GTA, we know it's not going to be by earning an honest living, you want to play a game like that, I'm sure you'll enjoy Farming Simulator. No, Niko's adventures in Liberty City are more like Goodfellas meets The Simpsons.
In terms of gameplay, GTA IV brings nothing new to the table, and in fact feels as if it's a step back. There are fewer varieties of vehicle types – gone are the bicycles and aeroplanes – and you are restricted to just the city, so no mountain climbing either. Having said that, Liberty City is probably as big as an actual city, and the attention to detail is astonishing, with virtually everything having it's own personality. The cityscapes are very impressive, with the imposing skyscrapers visible from just about anywhere, and with an awe-inspiring level of detail that even to this day is still impressive.
What keeps GTA IV interesting is its impressive story telling, which is as witty and offensive as ever, with some of more memorable and better created characters in the series, with some memorable missions, ranging from basic A to B drop offs, up to Heat like, epic bank heists, involving more weapons than all the Rambo films combined. GTA IV also boasts longevity as epic as the city itself. You will get hours upon hours of game time, with the main missions alone. A couple of additions to gameplay include being able to use the internet, including dating sites. Commandeering a police vehicle will enable you to access the local constabulary's computer, allowing you to complete vigilante missions, or if none of that appeals, there's always ten pin bowling, arcade machines, pool or darts, to name a but a few of the other things you can do if you don't quite fancy taking on the next mission.
It wasn't long before DLC was introduced, adding new stories and characters to the fold, in the form of The Lost And Damned, and The Ballad of Gay Tony. The Lost and Damned saw players take control of the leader of The Lost Motorcycle Club, Johnny Klebitz. Johnny has to deal with unrest with his MC brothers, as well as corrupt politicians and an intertwining diamond heist which we see cropping up across all three of the GTA IV games. The main mode of transportation, as you'd expect in The Lost and Damned, is a motorcycle, which was quite daunting at first as motorcycles have never been the greatest vehicle to handle in any GTA game, but luckily, the hogs you get to ride in TLAD handle like a dream. Not only that, get hold of a baseball bat and you can have yourself some Road Rash-esque shenanigans. The Lost And Damned weighed in at approximately an extra 10+ hours of gameplay, with some fun side missions, and more great story lines.
The second and last of the DLC expansions, The Ballad of Gay Tony, sees the introduction of Luis Lopez, the right hand man of the titular club owner, whose empire is crumbling around him in a drug addled haze. The story centres around Luis, cleaning up the mess Tony has got himself into, as well as some of his own personal issues. TBOGT sees the story take a more cartoonish approach, with tone verging on the side of farce and slapstick, compared to the previous episode's more serious plot. Not only that, but we see an addition to the gameplay in the form of parachutes. Although it's something that should have been there in the main game, it really adds to the more fun approach that this game has gone for, with several missions utilising this and some making it look like a current gen Pilotwings.
The additional chapters really open up Liberty City, adding a fresh perspective in each episode. In addition to the first expansions since the original GTA, there was also a first for the series, online multiplayer. As if the main game its self wasn't big enough, you play with or against your friends and anyone else online, in a variety of modes, including races over land, sea and air, standard death matches, and the remarkable Cops and Robbers mode. The latter sees up to eight players, four cops, four robbers, try to outwit each other following a robbery. The cops had to take out the team of robbers, whose task it was to make it to the getaway point. All are great fun, but only serve as a mild distraction from the main game.
And how can we talk about a GTA game without mentioning the radio stations? These are a much a part of GTA as beating hookers and running over pedestrians. This time around it had an even more diverse range of stations, from reggae, hip-hop, jazz. classical, electro and of course, Lazlow's talk radio show. And those that bought the DLC disc were treated to a bonus of Vice City Radio, playing some classic 80's hits.
Juan says:
The hype for GTA IV was off the scale, and rightly so, it was a new GTA for a new generation of consoles. It certainly didn't disappoint, it was as big in scale as San Andreas, although it stuck to the city. There were no sprawling countryside or giant mountains, just highways and and other roads. Gone were the jet planes and pushbikes, things seemed more stripped down and had more of an emphasis on story and character. This didn't stop the game from being enjoyable, but did make it seem somewhat limited in what extras you could get up to in contrast to the previous game, but what it lacked in single player content, it made up for in multiplayer, with a variety of different game modes on offer, from street races to the fantastic cops and robbers mode. As ever, the accompanying soundtrack provided great additional entertainment and became more diverse.
The first add-on to GTA IV, The Lost and Damned was a great addition, getting to take control of the leader of a motorcycle gang, and really added a bit more depth to the game and cleverly interwound the storyline with that of the main game, as with The Ballad of Gay Tony, which saw you carrying out the dirty deeds of the titular drug addled night club owner. This add on provided a few more touches to the game as well, such as parachuting and dancing mini games, which ended up with the character, for want of a better term, getting lucky in the club toilets. While GTA IV pushed the envelope in terms of the gratuitous sex and violence on display, it failed to hit the same spot as San Andreas, despite the awe-inspiring scale of the game.
Bat says: "I was a latecomer to GTA IV and whilst the game has some interesting missions, the game is very much like GTA III, which isn't surprising as they share the same setting. I found GTA III and IV a bit dull, lacking the fun from previous titles Vice City and San Andreas, especially as the game was missing the bicycles and aeroplanes, as Juan has previously mentioned. However, the realism is extraordinary and to drive through the New York based scenary at night, with all the billboards lit up, is nothing short of amazing. The only thing that really grates about the game is having to socialise with Niko's friends, or risk losing 'respect' from them. I found Ballad of Gay Tony the highlight of the two expansions, despite my love for all things motorcycles. The Ballad of Gay Tony also brought us the genius character of Yusuf Amir, and for that I am forever grateful. I got A-rab money!"