Resolution (2012)
Directed by: Aaron Moorhead, Justin Benson
Written by: Justin Benson
Starring: Bill Oberst Jr, Peter Cilella, Vinny Curran, Zahn McClarnon

Resolution (2012)
(15) Running time: 93 minutes
Directors: Justin Benson, Aaron Moorhead
Writer: Justin Benson
Cast: Peter Cilella, Vinny Curran, Zahn McClarnon, Bill Oberst Jr
Reviewed by: Matt Wavish
Resolution is the complete opposite to Hollywood big budget popcorn spectacles, and it is films like Resolution which make me sway more and more to independent filmmaking. Independent, low budget filmmaking has always been strong, but in the horror genre it seems to be getting stronger than ever, and many directors are releasing quiet little films bursting with ideas and brilliance. Resolution is one such film: a slow burner with bags of ideas, some serious acting talent and the kind of ambition and self awareness which would scare Hollywood to death.
Made on a tiny budget of just $1 million, every penny is used to great effect, and nothing is left to chance. Amazingly, this is also the directorial debut of Justin Benson and Aaron Moorhead , and if this is what they can achieve on their first film, then boy are we in for some good stuff as they develop their careers. The same can be said for the two lead actors, Peter Cilella as Michael, and Vinny Curran as Chris, who both give exceptional and addictive performances. The pair drive the film with their natural charisma, and gentle approach to their script. Since most of the film requires them to simply talk to each other, the pair hold the proceedings well, and honestly I was dazzled by their brilliance.
Resolution see's Michael (Cilella), a loving husband with a baby on the way, receive a video of his best friend Chris (Curran). Chris has gone off the rails with his drug addiction, and the video shows him out of his mind, firing off guns in the countryside. Owing a duty to his lifelong best friend, Michael decides to help him, and the video comes with a Google map direction to Chris' whereabouts. Michael find Chris in a dirty, run down house in the middle of the woods, not far from an Indian burial ground. Seeing no option, Chris is chained up and Michael tells his wife to give him a week to fix his friend.  The pair bicker, talk and reminisce about old times, and eventually Chris appears to be on the mend.
However, there are strange things going on all around them. A real estate man offers a deal on the house, drug dealers come round looking for money owed, a local Indian who owns the house threatens violence, and the friends are told to leave in two days, or pay his rent. Added to the weirdness is mental patients roaming the woods, local Cult members appear out of nowhere, and eventually Michael discovers some creepy recordings. Things begin to feel unhinged as photos of the pair start turning up, and video footage of them appears on Michael's laptop. Turns out Chris never sent the cry for help video, so who did? Who is filming them and following them? Just what does it all mean, and are they actually safe?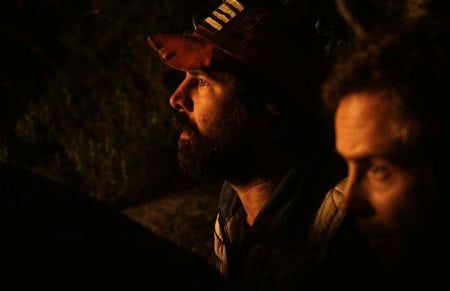 Resolution builds its suspense incredibly well, and never gives away too much, leaving the viewer to make their own mind up. Some answers are given by way of a creepy Frenchman living in a nearby caravan. Called Byron, the character is played superbly by the great Bill Oberst Jr, and as he tells the story of some French students "searching for monsters" while sucking on a joint, suddenly Resolution takes a very dark, and possibly supernatural turn. Talk of aliens, ghosts and monsters take the film in a whole new direction, but the directors never allow the tales of horror to take control, and again you decide what you want to believe. Critics have hailed Resolution as an observation on the horror genre in general, playing with the viewers expectancy's and toying with what we feel should happen. I agree, and I found this film to be highly intelligent, and one of the most original genre films I have seen in a long time.
Everyone involved here should be applauded: the actors are breathtaking in their portrayals of two friends faced with impossible odds, and the writer and directors for having the passion, bravery and skill to pull off such a magnificent work of art. What I also like is its unconventional approach to horror: there are no jump scares, no loud bangs or music, minimal violence,  and no cheap tactics. The film relies on atmosphere, exceptional acting and an intriguing and rewarding story, and plays out more like a sinister drama. However, the horror does take hold, and the building sense of paranoia felt by Michael and Chris will easily pass on to the viewer, and the finale will leave you shaking, and probably scratching your head too!
Resolution is a revolution in filmmaking, and proves that when you want to see good, honest and challenging movies, the independent scene is where it is happening. A stunning, masterful piece of work that defies genres, and is likely to floor you with its brilliance. It is amazing to think that two filmmakers can deliver a masterpiece so early in their career, but Benson and Moorhead have done just that!
Rating: