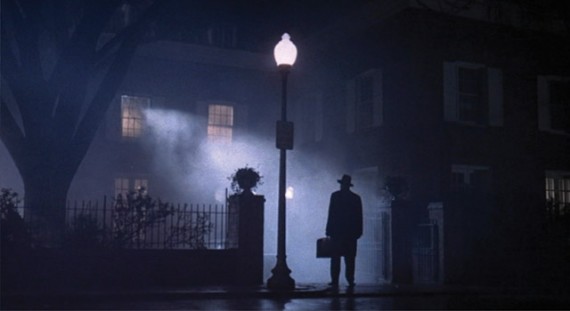 "What an excellent day for an exorcism". Released in US cinemas in 1973, William Friedkin's The Exorcist was something of a phenomenon, and scared the shit out of everyone who saw it. Personally, I don't think there will ever be another horror film to match the quality of what Friedkin delivered, both in terms of acting, story, effects and scares. The older I get, the scarier this film becomes!
Back in 1973 the film was a monster hit, and the video below captures the insane buzz surrounding the film, with massive queues of eager fans desperate to see it. The first half of the video focuses on the fans waiting in line, smiling, excited, happy to be part of one of horrors greatest success stories.
Then the video captures people coming out of the cinema after seeing the film, and brilliantly portrays the power of The Exorcist, and the effect it had on some of its viewers. People literally crying and scared to go back in to the cinema, and one guy even hilariously declares "I believe!" as he makes his way home. Brilliant!
Here is the Youtube description of the video, which was actually uploaded in November 2010:
A little glimpse of the mass hysteria that The Exorcist caused during its original theatrical premiere on December 26, 1973, including footage of the audience reactions and the incredibly long lines of people who waited hours upon hours to see the film.