BLOOD OF THE WEREWOLF
Publisher: Midnight City
Developer: Scientifically Proven
Available on Steam now
BLOOD OF THE WEREWOLF
is an addictive side-scrolling action-platformer game for the PC, via Steam, that wouldn't look out of place on a handheld console.
The story is a classic horror premise of a female werewolf Selena who's husband is murdered and her son Nikolai kidnapped. Selena vows to find him and it's here we start the story, playing as the mother hellbent on revenge.
The game's story is split into timed levels, with each level occupying a different location as the gameplay follows Selena's journey in search of her son. Most of the action happens underground or inside buildings, which is where our playable character remains in her human female form, armed with a crossbow to defeat the creatures that lurk on every platform. As the action moves above ground and into the moonlight, she turns into her werewolf persona and her claws become her deadliest weapon.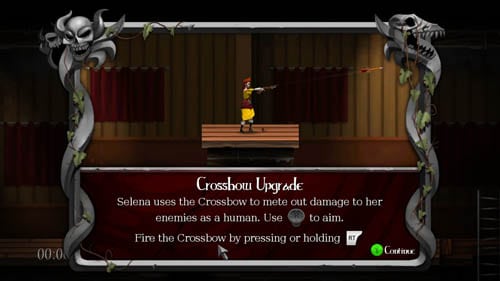 The opening level is used as a tutorial to instruct the player how the game works and what key does what. You can play with a keyboard, or you can use a Xbox controller for Windows, which is what I used and works quite well with straight away without remapping the keys. The game controls are fairly simple, with few options available apart from moving in a direction, jumping and attacking. In this respect, it's much like other platformers such as Super Mario and Sonic, but has its own unique charm.
The gothic storyline and graphics are engaging, particularly as a horror fan, with plenty of blood shed and a blood-curdling scream should you get caught by one of the nasty creatures or boobytraps. And yes, you will get caught, as this game is not at all easy. It's very difficult at times, and with the levels being timed too, you have the added pressure of trying to complete a level as soon as possible, but sometimes you have to admit it's not going to happen. One particular section I had trouble with was near the end of the second level. I had to time my descent down a tunnel chute without getting squashed. Sounds easy, right? Not when the tunnel chute angles different ways along the way down and the slamming booby traps squash you into a bloody mess should you happen to be out of tenth of a second out of place. I've died many times and I'm not ashamed to admit it. BLOOD OF THE WEREWOLF will proudly sit in my collection as one of those games that you swear at and throw the gamepad controller out of the window when things aren't going your way. But as I've found, taking a break and picking up the controller the next day gives you a fresh enthusiasm to progress, and thankfully, you actually do.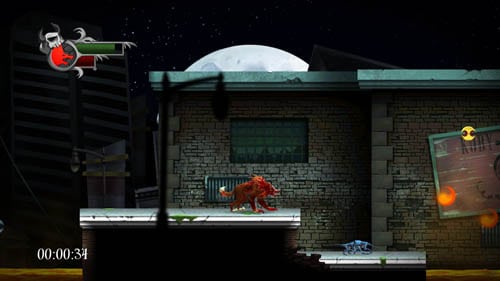 As with a lot of platformer games, BLOOD OF THE WEREWOLF features frustratingly difficult boss levels, but in the form of class horror icons! Yes, you get to do battle with the likes of Dracula, Dr Frankenstein and even the Merman as you aim to proceed to the next level. Like the rest of the gameplay, these sections are timed but there's no time limit and fortunately you have unlimited lives. The only aim is to do your best in defeating the enemy, in which you'll receive an alphabetised grade (I keep getting C grade) and your resulting score is added to the global scoreboards. This is a nice touch to the game, as it helps bring a competitive edge to what is a single player game, and even if you end up dying 22 times on a level like I did, you can see how well you're progressing.
Playing BLOOD OF THE WEREWOLF allows you to gain Steam achievements when achieving certain conditions within gameplay, much like Xbox gamer achievements. This doesn't mean so much in terms of value, but is an extra incentive to 'tick boxes' and get more out of the gameplay, an aspect I've always enjoyed. The game also participates in the Steam trading cards programme, dropping 4 cards during gameplay into your Steam account. A total of 8 unique designs need to be collected in order to earn the BLOOD OF THE WEREWOLF badge for your Steam account, which usually gives you a game-themed background for your Steam profile and an emoticon to use in chat. Like most trading card 'packets', doubles are inevitable but these can be traded or sold on the Steam market and ones you need can be bought. However, the quest to collect all 8 trading cards is optional and is only an added aspect of the game for those who wish to participate.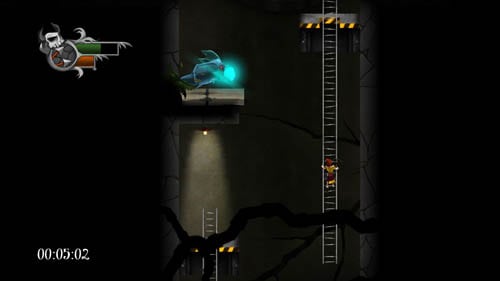 Even though it may cause you to pull your hair out in frustration, BLOOD OF THE WEREWOLF is a stellar game and provides the difficult gameplay that I've long been yearning for. Getting past a certain section gives you the overwhelming feeling of achievement that is missing in a lot of big games these days. To have that moment of glory is a terrific feeling, even if it only lasts a couple of minutes after you inevitably come across another difficult section. This only serves to inspire users to replay levels and beat their previous score, and so the game definitely has the replayability factor. The fact that the game autosaves during the many checkpoints in the level allows the player to concentrate on certain sections rather than having to replay an entire level each time they die.
A fantastic adventure, that reminds me of the good ol' platformers of the past, BLOOD OF THE WEREWOLF is excellent for those looking for a fast-paced game they can jump in and out off without complicated controls to remember. With decent voice acting in the still cutscenes by Erin Cummings as the voice of Selena (who also sounds a lot like Mila Kunis), and plenty of 'baddies' to wade through during the levels, this is a enjoyable game for any gamer but particularly fans of the horror genre.
Rating: