[youtube]https://www.youtube.com/watch?v=7z6FMCqYrBo[/youtube]
TO BE UPDATED THROUGH OUT THE SHOWING OF DAY OF THE DOCTOR    (Press F5 to refresh)
19:32  Helloooooo guys…..its Hughesy here………and we 20 minutes away from the long awaited showing of Day Of The Doctor, yes…its the 50th Anniversary of Doctor Who and I am sooooooooooooooooo excited!  Don't expect an in depth review here as I be watching the episode which the BBC is claiming to be the largest simulcast of a TV drama in history, the 75-minute episode will be broadcast in more than 90 countries…….sooooo yes its safe to say that is is the one heck of a TV event……
19:36  WTF…….Brucie on Strictly has just informed us that all the Doctor's will appear???????????????  Hope that was not a spoiler  and now he is telling us terrible Doctor gags…….groan…………..come on…..14 minutes left……
19:42  I really haven"t watched Strictly Come Dancing before, so this is bit of a torture………So some judge called Craig and the rest have giving a score of 8….. I suppose that is good!………  and some Natalie and Artem are at the top………..I guess someone out there is excited by this…….
19.46:  And now they showing us all these clips of them dancing again……………….and of course asking people to spend their money to vote for them…………oh well……..its safe to say, I am not tempted…….
19:50  HERE WE GOOOOOOOOOOOOOOOOOOOOOOOOOOOO…………………….DUM DEE DUM DUM DEE DUM DUM DUM……WHOOOOOO OOOOOOOOOOOOO OOOOOOOOOOOO…………… That is my crap impression of the theme tune……..and this is it………….the BBC has said that the "world is watching……."  and what a start…..a brand new intro that mirrors the first ever episode…………now this is awesome already………and the gorgeous Clara is now teaching………………..and there is Matt……..reading the book……… well that is one Doctor already… the obvious one of course…..so no surprise there.   And two minutes in, the Tardis is being taken by U.N.I.T.  and there is a woman wearing a scarf like good old Tom Baker……….
19:55  Matt Smith dangling from the Tardis is a good thing………and the credits are playing, like a proper movie……..the BBC are putting a lot of effort in this, fair play….. and now the Doctor is in a museum……..and we have our first reference of  Gallifrey…..soooo this is the picture of what seems like the long talked about Time War….and now we getting to the bit concerning John Hurt………and now its gone all STAR WARS on us……. Mr Lucas would be proud!
19.58 Damn I bet this is great in 3D……..
20.00 So we finally seeing the Time War,,,,,,and where is Timothy Dalton??????   So that big red button we see in the trailer with John Hurt is now being explained………and can I just say……John Hurt is playing THE DOCTOR…….How wicked is this!!!!!!!!!!!
20:03  ROSE IS BACK………….but she is not Rose?????….she can't be……….. now this is going to be a tad confusing………..oh wait, she is the interface?????  ah, so yes……we going way too into SCI-FI……….. now she has mentioned the famous "BAD WOLF!"…….Russell T Davies will proud here……….but if this John Hurt has met her now….surely….when he regenerates into good old Chris……he remember her………..ooooohhhhh shit my head hurts…….and all of a sudden as I type….the show has gone dark…….the Doctor is going to kill some kids…………now this is way heavy…….
20:10 Elizabeth 1st………. and we get our first glimpse of DAVID…….AHHHHHH YESSSSSS!!!!!!!!!!!!  He is back!……….having a picnic lunch with the bird from Gavin & Stacey………    "its a machine that goes DING!!!"  You can't help but say that David is soooo good in the role…….and how good is Matt to make you forget how good David is"…..  Zygons………..not seen since 1975……..
20:13  We got two Joanna Page's on screen…… and yes I am having dirty thoughts here……
20:14 THE FEZ IS BACK!!!!!!!!!!!!!!!!!!!!!!
20:16 And we finally have MATT and DAVID together…….and they whipping out their Sonic Screwdrivers to measure them……..Seeing these two together is kind of fantastic…….. I haven't been this excited since THE FIVE DOCTORS……and now John Hurt has turned up….. 3 DOCTOR'S……………………….ooooohhhhhh….this is great!…….
 20:22  John Hurt is talking in a very serious gravel tone……..makes me wonder though where Christopher would have fitted in here if he said "yes"….
20:25 The girl with the Tom Baker Scarf is getting attacked here and now there is two of her………..oh my…..if the Doctor was a naughty man, he could really have some fun if he wanted too…..
20:27 Vortex……..Jack Harkness being mentioned…..I am sure, John Barrowman would have rather been in this than just being mentioned………ohhhh…………..shit…….now that is a good twist….those Zygons sure get about……
20.30 We now have the three Doctors having a serious conversation and they on about killing children again…….2.47 BILLION……..he murdered apparently……….oooohhhh what a bastard!!!!!
20.35 By the looks of it, there is no other Doctor's gonna show up here…….  "Three of you in one cell…and not one of you thought of trying the door?"…. ha ha………love that Clara………  I got to be honest….I got noooooo idea what they on about here…….I bet it still looks nice in 3D  though……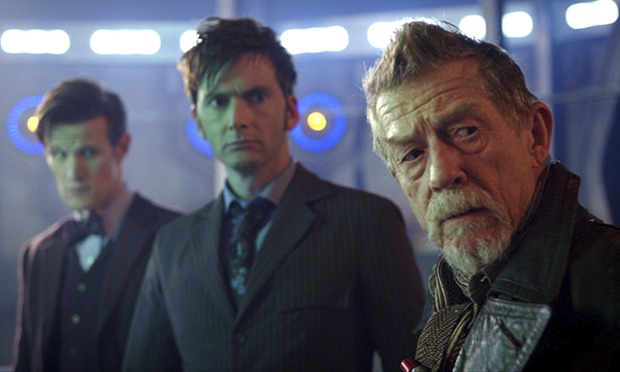 20:40 Is it me but as this gone quick though…..we only have 20 minutes left………and now we have a Wedding….fair play on Moffat, ……..oooohhhhhhh and we now have David's Tardis……..oh wait now its Hurt's……now wait…..its Matt's………… the writers here are surely cramming in as much as possible here……wow!
20:45 There are a few groans I see on Twitter that nothing has really happened and yes, I might have to agree here……it started off like a train but its gone very talky over the last twenty minutes……….its just the brief moments of joy is making this special so worth it……….
20:46 Matt and David are quite simply having a ball here…..but I've got a horrible feeling that Moffat may be on the verge of pressing a reset button here….if Hurt doesn't press that button then the future….the things we have seen with Chris, David and Matt will change forever…….
20:47 Ok, here we go………will he press the button????   And again, the murdering of Children………..
20:50 And once again over the last half hour….there is a threat of huge show after a build up…….but its all one talky…..If they don't press that red button….then I will……………someone get me a TARDIS……….
20:51  Can I just add that there a loads of kids on Gallifrey….do this race do anything else than have sex and make babies…………so, all of a sudden we not having the Doctor kill those kids after all…….its all Timey Whimey but quite underwhelming……I must say……they are just gonna "freeze Gallifrey!"……all of a sudden I feel all Batman and Robin again………hang on….soooo instead of burning the kids…they gonna freeze them,,,,,,,,,,,,someone  hasn't really thought this through………..
20:55 That was Peter Capaldi!…… THAT WAS PETER CAPALDI……..
20:58  So I was wrong…the Doctor's did show up……….even if it was just a tad glimpse….and now we have the "you wont remember this! brain wash!"………… and Hurt is regenerating………now this was where Chris was supposed to be……damn you Chris……damn u…….
21.00 "I don't want to go!"……..Bye Bye David for a second time………… now we have the last few minutes…….  NOOOOOOOOOOOOOOOOOOOOOOOOOOOOOOOOOOOOOOOOOOOOOOOOOOOOOOOOOOOOOOOOOOOOOOOOOOOOOOOOOOOOOOOOOOOOOOOOOOOOOOOOOOOOOOOOOOOOOOOOOOOOOOOOOOOOOOOOOOOOOOOOOOOOOOOOOOOOOOOOOOOOOOOOOOOOOOOOOOOOOOOOOOOOOOOOOOOOOOOOOOOOOOOOOOOOOOOOOOOOOOOOOOOOOOOOOOOOOOOOOOOOOOO………………………………….ITS TOM BAKER!!!!!!!!!!!!!!!!!!!!!!!!!!!!!!!!!!!!!!!!!!!!!!!!!!!!!!!!!!!!!!!!!!!!!!!!!!!!!!!!!!!!!!!!!!!!!!!!!!!!!!!!!!! NOOOOOOOOOOOOOOOOOOOOOOOOOOOOOOOOOOOOOOOOOOOOOOOOOOOOOOOOOOOOOOOOOOOOOOOOOOOOOOOOOOOOOOOOOOOOOOOOOOOOOOOOOOOOOOOOOOOOOOOOOOOOOOOOOOOOOOOOOOOOOOOOOOOOOOOOOOOOOOOOOOOOOOOOOOOOOOOOOOOOOOOOOOOOOOOOOOOOOOOOOOOOOOOOOOOOOOOOOOOOOOOOOOOOOOOOOOOOOOOOO…………………………………………..OH YES OH YES OH YES……………………………………………………………………………………………………………………………………………………………………………
21.05  Even though it did feel a bit underwhelming,,,,,,,,,,I don't care really……we just had all the doctor's appear………..great final shot there……..
21:07  And that is it…………I am off for a can and try to digest what just happened…..expect a full proper review soon…………..
Ross Hughes