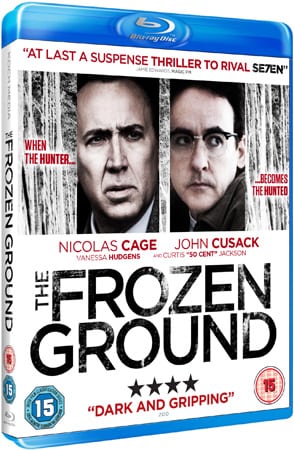 THE FROZEN GROUND, the terrifying true story surrounding one of America's most notorious serial killers, will be released in the UK on VOD on 20th December 2013 and on DVD and Blu-Ray™ from 13th January 2014.
Directed by Scott Walker, THE FROZEN GROUND features an all-star cast including Nicolas Cage (Bad Lieutenant, Kick Ass), Vanessa Hudgens (Spring Breakers, Sucker Punch), John Cusack (The Paperboy, 2012) and global hip-hop legend Curtis "50 Cent" Jackson.
When teenage prostitute Cindy Paulson (Vanessa Hudgens) is found by police officers – beaten and pleading for her life – in an Alaskan motel room, everyone is quick to dismiss her version of events. However, US state trooper Sgt. Jack Halcombe (Nicolas Cage), soon comes to believe that Cindy is the only surviving victim of a local serial killer, Robert C. Hansen, responsible for a series of murders of young women in the past decade. Lacking the support of his department, Halcombe must find Cindy, gain her trust and form an unlikely partnership in order to track down the man who still wants to kill her.
Dark and gripping, horrific true story THE FROZEN GROUND is sure to chill audiences when it's released this winter.