This Friday sees the release of PARKLAND, the heart-stopping and powerful true story, never before told, of the people behind the scenes of one of the most scrutinised moments in history. Written and directed by Peter Landesman, PARKLAND recounts the chaotic events that occurred in Dallas, Texas on November 22, 1963, the day President John F. Kennedy was assassinated.
Ahead of this Friday's release of JFK film, PARKLAND, to coincide with 50 years since the assassination of President John F. Kennedy, I've decided to share with you my top 5 assassination films.
THE CONSPIRATOR
Robert Redford directs THE CONSPIRATOR which centres around the court case of the co-conspirators of hitman John Wilkes Booth after the assassination of President Abraham Lincoln. James McAvoy stars as young lawyer Frek Aiken who's tasked with defending the sole female conspirator, Mary Surratt (played by Robin Wright), who's son John was the right hand man of Wilkes Booth. With the whole country convinced of her guilt but with no evidence, Aiken must choose whether to defend her or risk losing all.
ASSASSINS
Sylvester Stallone stars as hitman Robert Rath, a hitman who takes on one last job before retiring but finds himself competing against a younger, ruthless hitman by the name of Miguel Bain (Antonio Banderas). Rath decides not to kill the mark, single woman Electra (Julianne Moore), instead opting to help and protect her agsint Bain and prevent the disc full of vital secret information that she has acquired from getting in the wrong hands.
NICK OF TIME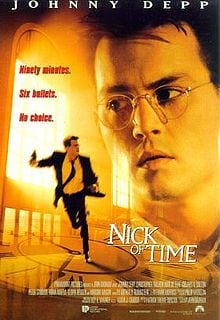 Johnny Depp stars in this real-time thriller as father Gene Watson who's forced into assassinating a politician at a political rally or risk never seeing his daughter again. Christopher Walken stars as the bad guy who's kidnapped Watson's daughter and is forcing him to commit a murder. With a set time limit, Watson must decide what to do if he and his daughter are to survive.
MACHETE
Robert Rodriguez treats us to a feature length B-movie full of guns, babes and Danny Trejo – what's not to love?! Trejo stars as Machete, a Mexican ex-federale officer who's now living across the border in the U.S. Struggling for work, he takes a job from Michael Booth (Jeff Fahey) in assassinating right-wing Texan politician, Senator John McLaughlin (Robert De Niro). Whilst taking aim at the Senator at a political rally, Machete notices a sniper aiming at him and realising he's been set up, is forced to go on the run. With the help of Luz (Michelle Rodriguez), Machete seeks to dish out his own style of revenge on those who betrayed him.
VALKYRIE
Tom Cruise stars in Bryan Singer's all-star dramatisation of the real-life assassination and coup plot against Adolf Hitler by a group of his regime's high-ranking officers. Colonel Claus von Stauffenberg (Tom Cruise) is assigned to head up the plot with fellow soldiers and politicians and help get others on side to change Operation Valkyrie – a measure that will help his comrades seize Berlin should Hitler be killed. An intense and emotional movie, Singer tells the tale of those who chose to do something rather than be a part of it.
Releasing this Friday in the UK – PARKLAND
PARKLAND weaves together the perspectives of a handful of ordinary individuals suddenly thrust into extraordinary circumstances: the young doctors and nurses at Parkland Hospital; Dallas' chief of the Secret Service; an unwitting cameraman who captured what became the most watched and examined film in history; the FBI agents who nearly had the gunman within their grasp; the brother of assassin Lee Harvey Oswald, left to deal with his shattered family; and JFK's security team, witnesses to both the President's death and Vice President Lyndon Johnson's rise to power over a nation whose innocence was forever altered.
Based on the book Four Days In November, by Vincent Bugliosi, PARKLAND is produced by Playtone partners Tom Hanks and Gary Goetzman along with Exclusive Media's Nigel Sinclair and Matt Jackson, and Bill Paxton. The film stars Zac Efron, Jackie Earle Haley, Marcia Gay Harden, Billy Bob Thornton, Jacki Weaver and Paul Giamatti.

PARKLAND opens in UK cinemas Friday 22nd November 2013