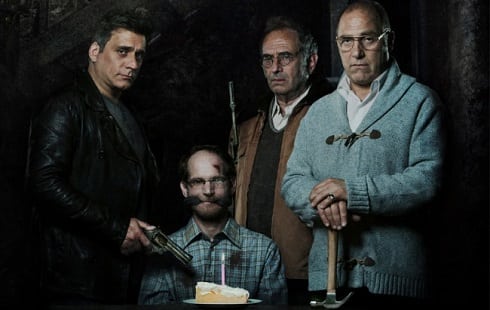 Big Bad Wolves gets it's official UK release on 6th December and we've got the UK quad for the  insane Israeli thriller. Check it out below.
Big Bad Wolves is directed by the duo behind Rabies, Aharon Keshales and Navot Papushado, and the cast includes Lior Ashkenazi (Footnote), Tzachi Grad (The Flood) , Rotem Keinan (The Exchange), and Dov Glickman.
Tarantino has even spoken very positively about the film and has given it some very well deserved praise, announcing "This is not only the best film of Busan, it is the best film of the year."
Synopsis:
Soaked in twisted tension, fairytale myth and seat-edged suspense, the film follows the lives of three men on a collision course: following a series of brutal murders: the father of the latest victim now out for revenge, a vigilante police detective operating outside the law, and the main suspect in the killings – a religious studies teacher arrested and released due to a police blunder.