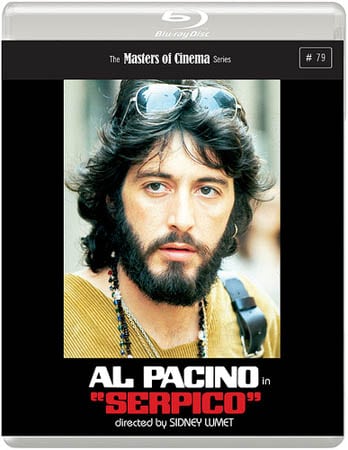 Eureka! Entertainment have announced the release of Serpico, one of the most famous films of the 1970s American cinema and a major commercial success, starring Al Pacino who received an Academy Award nomination for Best Actor; and Best Adapted Screenplay for screenwriters Waldo Salt and Norman Wexler. Directed by the legendary Sidney Lumet (12 Angry Men, Dog Day Afternoon, Murder on the Orient Express, Prince of the City, and countless other classics) Serpico will be released in a Blu-ray and Limited Edition Blu-ray SteelBook editions as part of Eureka! Entertainment's award-winning The Masters of Cinema Series on 24th February 2014
Sidney Lumet's 1973 crime drama Serpico remains one of the most influential cop movies – alongside Al Pacino's nuanced performance in a disturbing portrait of corruption and morality in the city that never sleeps.
 A plainclothes street patrolman, Frank Serpico (Pacino) might be the best cop in New York, but his unwillingness to play dirty and give into police corruption of drugs, violence, and kickbacks his colleagues indulge in every day. When he decides to expose those around him, Frank finds himself a target, not just to the city's criminals, but his own peers.
Shot on location and based on real events, Serpico captures the grit of New York in a way no film has rivalled, not just for its toned down realism, but also the bleakness Lumet portrays within his hometown city with brutal cynicism with frank immediacy. The Masters of Cinema Series is proud to present Serpico for the first time on Blu-Ray in the UK.