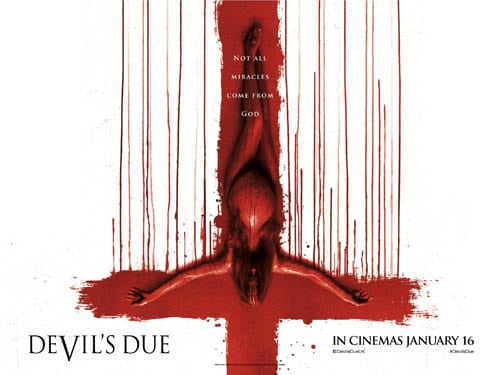 A new poster has been revealed for the creepy new found footage horror, Devil's Due, and you can check out the poster below. Not only do we have the new poster to share, but also a new website has been set up which shows the films main characters at first looking happy, and then becoming consumed by evil. There is plenty of cool stuff to explore aswell.
And finally, we have a UK release date for the film, which has been set for January 16th!
The cast of Devil's Due includes Zach Gilford (The Last Stand and TV series Friday Night Lights) and Allison Miller (17 Again, TV series Terra Nova). The film was shot on location in Dominican Republic and New Orleans, with John Davis producing. Lindsay Devlin wrote the script, and Matt Bettinelli-Olpin and Tyler Gillett directed for Radio Silence.
Synopsis:
After a mysterious, lost night on their honeymoon, a newlywed couple finds themselves dealing with an earlier-than-planned pregnancy. While recording everything for posterity, the husband begins to notice odd behaviour in his wife that they initially write off to nerves, but, as the months pass, it becomes evident that the dark changes to her body and mind have a much more sinister origin.