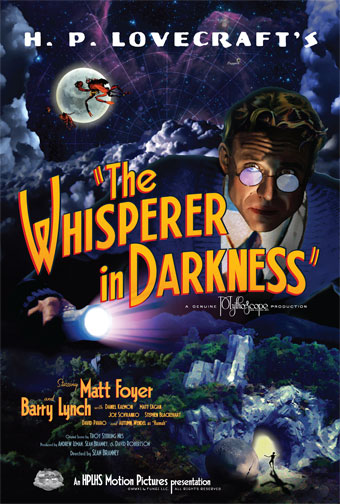 Grimmfest Festival Favourite THE WHISPERER IN DARKNESS is now available to rent or own on digital platform TheHorrorShow.TV. The film is the first of the Grimm Up North's releases under the Grimmfest Festival Favourite banner, with more titles set to be released on the digital service in the coming months.
Completed in 2012, THE WHISPERER IN DARKNESS was produced as a labour of love by the HP Lovecraft society in their continuing mission to faithfully adapt Lovecraft's films in the style from the era they were born in, as seen in 2005's silent expressionist picture THE CALL OF CTHULHU. THE WHISPERER IN DARKNESS, Directed by Sean Branney, is considered by many critics to be the most authentic movie adaptation of Lovecraft's writing and is presented in sumptuous vintage style; the film utilises the cinematic technique Mythoscope which creates the feel of vintage motion pictures through modern techniques to provide elegant black and white cinematography which makes THE WHISPERER IN DARKNESS look and feel like a 1930's classic universal horror movie akin to Frankenstein, Dracula and King Kong.
THE WHISPERER IN DARKNESS is based on H.P Lovecraft's science fiction/horror novella which was originally published in 1931. The film follows the weird journey of real life Folklore professor of the Miskatonic University Albert Wilmarth (Matt Foyer) as he delves into the legends of strange creatures that are said to inhabit the most remote mountains of Vermont. After farmer Henry Akeley (Barry Lynch) sends tales and photograph's of otherworldly footprints and grotesque creatures found in surrounding rivers, Wilmarth arrives in Vermont to uncover terrifying truths behind these legends, which extend to visiting strangers from the outer space and the darkest pits of hell.