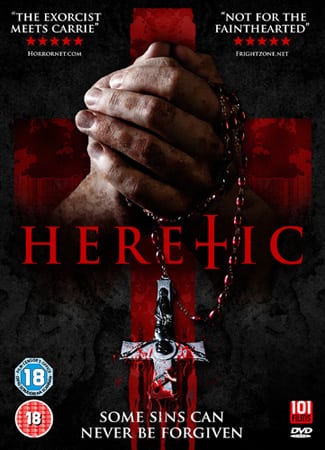 Mod Scientists and 101 Films today have proudly announced the nationwide cinematic release of Mod Scientists' psychological horror movie, Heretic.
With a total budget of under £30k, no government or screen agency support of any kind and produced whilst the writer / director and producer were both working full-time outside of the film industry, Heretic is a huge success story for low-budget movie making and testament to what blood, sweat, tears and a love for film can produce.
First-time writer / director (Peter Handford) and producer (Bethany Clift) had no previous experience of working on movies and no industry contacts, yet they were able to write the movie, raise the finance for it, cast it, crew it, find a place to shoot it, buy/make the costumes and props, hire the cameras and lights and feed and house the entire cast & crew (while the producer simultaneously fed her 12 week old baby from her own body!) and take the movie from script to release in under three years.
Producer Bethany Clift says 'We made Heretic because we wanted to prove that you don't need industry contacts or loads of money to make a brilliant low budget movie – you just need a fantastic script, a lot of hard work and, quite frankly, a huge amount of balls.'
Reviews for Heretic have been overwhelmingly positive and accolades include –
"Dark, haunting and inventive" – Starburst
"Heretic is a superb new British horror that will keep you on the edge of your seat until the very end" – UK Horror Scene
"This is one of the best British horror films I have seen in a long time" – Nerdly
"Handford has masterfully created a British classic that is a must see…" – Bloodguts
"A haunting, claustrophobic chiller that will creep under your skin" – Horror Cult Films
"Heretic is chilling and unnerving." – Total Spec
 "Heretic is a complex, mind-bending thriller that keeps you hung by the neck until it's shocking climax" – HorrorTalk
Steve Davy, Head of Acquisitions for 101 Films says 'Heretic is a brilliant British horror, we are delighted to have secured the movie for distribution and incredibly proud to be able to support low-budget British film by doing so. The number of fantastic reviews that the movie has already received has justified our belief in Heretic and we are extremely excited about the cinema release at the end of December.'
Heretic will be screening at selected cinemas from 27th December, and released on DVD/online on January 6th 2014.
Heretic is the chilling tale of a disgraced Catholic priest who refuses to accept his culpability in the death of a young girl and is subsequently trapped and tormented in a house haunted by the souls he should have saved.