Silent Night (2012)
Directed by: Steven C. Miller
Written by: Jayson Rothwell
Starring: Donal Logue, Jaime King, Malcolm McDowell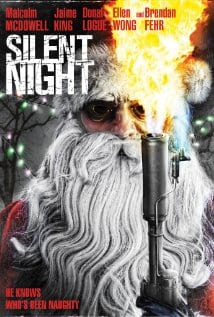 Silent Night (2012)
(18) Running time: 94 minutes
Director: Steven C. Miller
Writer: Jayson Rothwell
Cast: Malcolm McDowell, Jaime King, Donal Logue
Reviewed by: Matt Wavish
I am the first to complain about all these unnecessary remakes, but I am more than happy to admit defeat in my complaints, and champion a great remake. Steven C. Miller's Silent Night, which is very loosely based on the controversial classic slasher, Silent Night, Deadly Night (1984), is a great remake. In fact, I knew it was going to be good simply because Miller's name was attached: the director of such great horror as The Aggression Scale, Under the Bed and the brilliant short, Granny, was sure to give us something really special with Silent Night, and he does.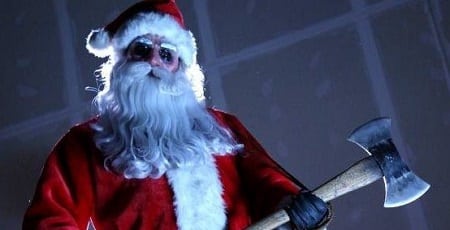 If you have seen his most recent horror, Under the Bed, then you will know that Miller has a fondness for 80's horror, and he continues paying homage to that decade with his far more fun version of Silent Night. Miller's remake injects tons more comedy and fun to the bitter proceedings of the much loved original, and is all the better for it. Miller has created a proper slasher, one that goes for the 'having a great time', rather than 'scare you shitless' approach, and this makes Silent Night a blast from start to finish.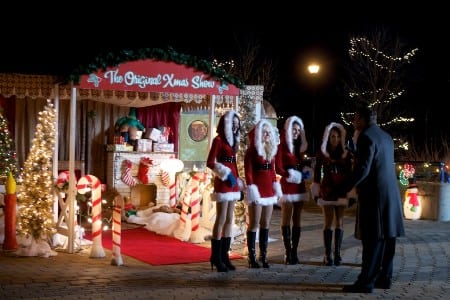 The premise is that a twisted killer, still bitter from seeing his Father murdered by a man dressed as Santa, spends the Christmas season having his revenge. He dresses as Santa, wears a disturbing Santa mask, and goes about killing people in spectacular ways: stabbing, slicing and strangling all appear here, and festive weapons are used (a superb use of Christmas lights early on set the tone) to crowd pleasing effect. A stand out death involves a wood chipper, and a very sexy naked girl!
The killer has come to a quiet, self contained town who are celebrating Christmas with the annual Santa parade, which makes finding a killer dressed as Santa all the more difficult. The town Sheriff is played by Malcolm McDowell, and Sheriff Cooper is a stubborn son of a bitch. Calling in his deputies, they embark on a mission to find the killer. McDowell shines as the determined Sheriff, and much of the films comedy comes from his superb dialogue and delivery of the script. It is clear that McDowell had a blast making this, and you will instantly love him.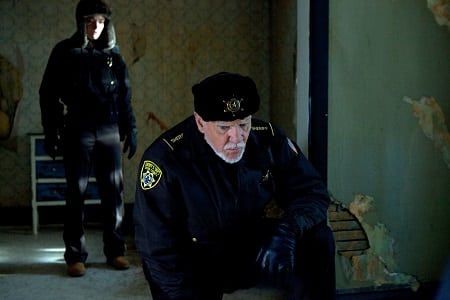 One of his deputies is the troubled Aubrey Bradimore (King), and she is suffering a tragic loss this festive time, and does not take too kindly to some mean spirited killer ruining Christmas. She plays it dead serious, and is the perfect antidote to McDowell's bordering on insane Sheriff. The pair can be magic on screen together, and it is this charm, this sense of playfulness, that makes Silent Night so much fun.
Miller creates a great festive atmosphere with his use of Santa outfits (a great scene see's a group of female singers in proper sexy Santa kit), tons of Christmas decorations and flashing festive lights, snow and the wonderful sense of a town coming together on Christmas Eve. This is a full on Christmassy horror if ever there was one, and the perfect film for horror fans to enjoy over the Christmas holidays. Miller also uses plenty of Christmas songs and carols, some create a sense of community and warmth, while others take on a truly unsettling tone as they accompany a brutal murder. The cinematography is top notch, and the production here is dazzling. Miller shoots drama, comedy, violence and action with ease, and even finds time for a little bit of sexyness too. In short, Silent Night delivers everything a horror fan would want for Christmas, and then some. Silent Night is great, it has tons of violent deaths, tons of comedy, some superb characters, a chilling villain and a real sense of the Christmas spirit. A total blast from start to finish that is perfectly paced, and never lets up on its juggernaut of horror which comes thick and fast. Slasher fans will adore this!
Rating: