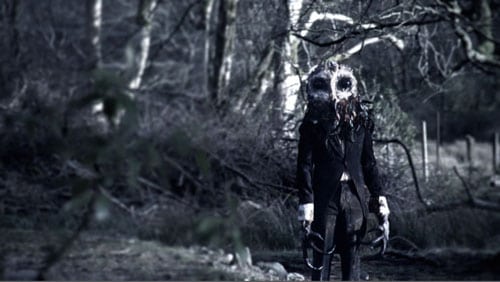 Eek! Just posting his picture makes me quake in my boots! The dreaded Owl Man, he of Lawrie Brewster and Sarah Daly's excellent indie horror LORD OF TEARS, will be starring at Brussels International Fantastic Film Festival as the film is made an Official Selection! Not only that but they have also won praise from fellow filmmakers including Stephen Susco (writer of the American Grudge Remakes) and William Malone (director of the House on Haunted Hill remake and designer of the original Michael Myers mask!)
Whilst the Owl Man is no doubt pleased about his exploits being so highly praised, he still gets his thrills from preying on the unsuspecting web users who haunt Chat Roulette.
After all this excitement, what could be next? Director Lawrie Brewster discuesses future plans for Hex Media in his latest video interview.
Plus, if you're still a Lord of Tears virgin, then check out the new trailer and get your ass on over to Hex Media's website to purchase a signed copy on DVD or Blu-Ray, complete with soundtrack!